Lindsey Recker, RD
Hi there! My name is Lindsey Recker, a registered dietitian and recent graduate of Rutgers University's Master of Science in Clinical Nutrition program. I was born and raised in Cincinnati, OH and obtained my Bachelor's degree in Kinesiology and Health from Miami University in Oxford, OH. I then moved to Indiana in December of 2019 to complete my dietetic internship at the Richard L. Roudebush VA Medical Center in downtown Indianapolis while simultaneously finishing up my Master's degree online.
As a registered dietitian, I enjoy helping others achieve AND maintain their nutrition, fitness, and wellness-related goals through evidence-based interventions and individualized nutrition counseling. I'm passionate about the role of nutrition in chronic disease prevention and management, longevity, and overall well-being.
I look forward to meeting everyone in the NIFS community!
Contact: lrecker@nifs.org
I graduated in May 2013 with a Master of Science degree in Kinesiology from IUPUI by way of my undergraduate degree in Exercise Science from Valparaiso University. At Valpo, I played football for four years and interned with the head strength and conditioning coach. I bring the same controlled enthusiasm to your workout that I used each time I stepped into the weight room or football field. My specialty is variety. I have experience with clients from all different fitness backgrounds and levels. I am one of the Athletic Performance coaches for the IUPUI sports teams but also have clients with different ranges of general fitness desires. No matter what you hope to achieve, I will guide you in the right direction.
My role as your personal trainer is to help remove the overwhelming aspects of a fitness regimen so that it becomes an approachable and attainable undertaking. I have extensive experience working with individuals of many different levels of ability, but I specialize in athletic performance and those who want to build upon their athletic edge. If you are looking to get out of your old fitness routine, or want a higher intensity of a workout, I combine my experience with both knowledge in exercise science, as well as a creative approach in general, to develop time-efficient and productive high intensities that match your goals and ambitions.
My passion for strength training began at the age of 14 when I started training in the high school weight room. I received my BS in Exercise Science from the University of Indianapolis in 2019. After graduating from UIndy I began to train kids and adults of all ages in their pursuit of strength. I specialize in Olympic weightlifting, powerlifting, and general strength training, as well as athletic performance.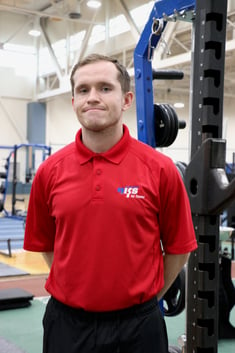 David Behrmann, BS
I received my BS degree from IUPUI in 2014. I was a member of the Cross Country and Track teams during my collegiate time.

I am eager to assist clients in areas of their fitness/well-being that include mobility/form, athletic performance, strength, and cardio/vascular training. I hope, as a NIFS trainer, to be a motivating force and resource for clients to achieve their fitness/wellness goals and aid them in their journey to develop a healthy lifestyle inside and outside of the gym.
Contact: 274-3432 ext. 262
I graduated in May 2022 from IUPUI with a B.S. in Exercise Science and a minor in coaching. My love for sports and fitness started when I began playing soccer at 3 years old. From them, I was always involved with athletics including dance, karate, football, volleyball, and track. I have had experiences working in personal training and coaching with children, people with disabilities, people with injuries, and more. My favorite workout method is strength training. I really enjoy helping others in their fitness journeys, especially as someone with several autoimmune diseases, I know how important working out is to have an overall better quality of life.