TRAIN WITH A PURPOSE

WHAT IS DEKA?
DEKA is The Decathlon of Functional Fitness. It consists of indoor fitness competitions and motivational training programs designed for ALL levels. Take your game to a whole new level and embrace the DEKA challenge. Start training for NIFS first DEKA event in November!

TRAIN FOR NIFS FIRST DEKA STRONG EVENT NOVEMBER 11th, 2023!
---
3 WEEKLY WORKOUTS
3 PILLARS OF FITNESS
10 ZONES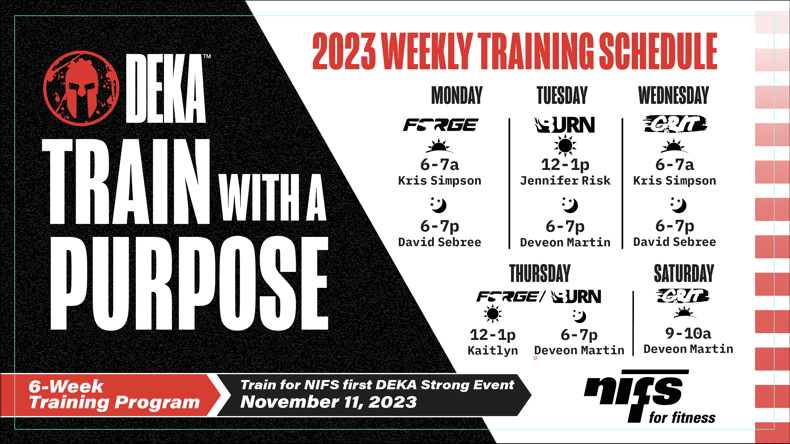 6-Week Training Program
September 25-November 4

9 training classes are offered each week. Your goal is to attend 1 class from EACH PILLAR once a week for a total of 3 classes per week.


NIFS Members-$99 Non-member $205
---
DEKA Training is a unique approach that will elevate your confidence, improve daily performance and help be the best version of you! The training is built on 3 pillars:

STRENGTH/POWER
10 Zones

4 rounds

30 Seconds ON/30 Seconds OFF

ANAEROBIC CONDITIONING
10 Zones

3 Rounds

60 Seconds ON/30 Seconds OFF

ENDURANCE
10 Zones

2 Rounds

90 Seconds ON/30 Seconds OFF
---