Go Girl Triathlon Training Program for Women
June 27–August 29, 2023 on Tuesdays 5:30-7:00pm
Are you training for your first triathlon? Wanting to improve in one or all areas of your performance? Then our women's-only, triathlon training program is for you. Our program is a 10-week training program focused on the Go Girl Triathlon at Eagle Creek Park on August 26th, but the training will help you cross any finish line at any race you choose this summer.
When: June 27-August 29, 2023 (August 26th is race day), Tuesday nights from 5:30-7:30p (August 29th post-race celebration).

Where: Training will take place at Eagle Creek Park, NIFS, IUPUI Natatorium and open water swim locations

Who: All experience levels are welcome.
Program cost:
NIFS Members
$200.00 includes race entry to Go Girl at Eagle Creek


$145.00 training only; race entry NOT Included



Non-members
$235.00 includes race entry for Go Girl at Eagle Creek
$180.00

training only; race entry NOT Included




Program fee

Does NOT include 1-day USAT pass ($15

if not a USA Triathlon member) on race day
Program includes: 

Expert coaching by Kris Simpson, USA Triathlon Level I Certified Coach


Weekly Training plans



Training protocols for all abilities




Bonus open water swim opportunities


Pre- and post-race nutrition information

Learn warm up/cool down and recovery protocols

Refreshments after each training sessio

Post-event celebration

Duathletes welcome!! Provided with race specific workouts


Meet the Trainers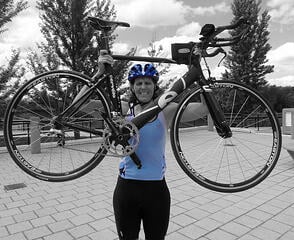 Kris Simpson is a USA Triathlon Level I Certified Coach and NIFS trainer. Kris has competed in several triathlons including sprint and Olympic distances.

"This program has been so much fun getting ladies ready for the GO GIRL challenge. On Race day the camaraderie formed and the success each lady has makes me so proud of all the work that has been done."
"As with any program, you have those that doubt they can even get to the starting line. But as they grow and learn, you can see their confidence increase, and the race finish smiles are a joy to watch! Challenge excepted, Challenge meet! It's not hard, it's CHALLENGING!"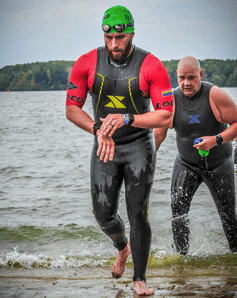 Timmy Howard is the Operations Manager/Program Coordinator at NIFS, so you may have seen him around. But, you may not have known he is an avid endurance athlete. He completes Ironmans as well as Ultra Marathons. Timmy is an RRCA Certified Run Coach, NASM Certified Personal Trainer, and has a severe love of hot dogs. Timmy is currently in training for the Ironman in Lake Placid in July 2023.

"I can't wait to kick off Triathlon Training season. I hope to see 1st-time participants as well as returning participants. There is nothing better than setting a goal with someone and helping them get to the finish. I want to be here to be a part of your process."
Thank You to Our Sponsors: