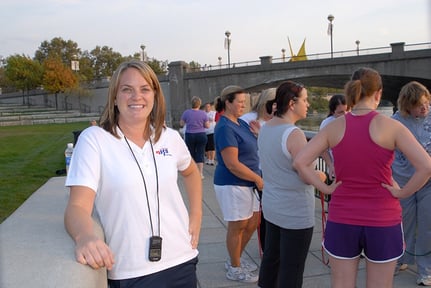 Teambuilding at NIFS
NIFS Corporate Teambuilding Program responds to the growing need for corporate camaraderie, creative problem solving and effective communication through active learning teambuilding events.
Do you want to improve communication and understanding between management, staff and departments?
Would an amiable work environment help you hire and retain good employees?
Do you want employees who are motivated, team-oriented and open to change?


Teambuilding Activities
Fun is central to the experience at NIFS. Fun activities get people involved, are motivational and instill an atmosphere of creative energy. The spacious 65,000 square foot Fitness Center at NIFS serves as the playing field for the various games. We can also come to your site. Sample ActivitiesThe NIFS Corporate Teambuilding program games and activities are geared toward various team building concepts and are played in a unique, fun, and active way.
Activities Available Include:
Human Bingo—
Application: Getting to know each other Each participant is given a Human Bingo card with phrases in each box. After the leader says, the participants ask each other if they have ever done or can do the things listed on the bingo card. The game continues until someone completes a row, column, or diagonal and yells BINGO!
Thumb Wars
Application: Teamwork The participants join in pairs. Each pair is instructed to have "thumb wars" and the object is to have as many wins as possible in 10 seconds.
Inner Tube Pass
Application: Teamwork, cooperation, problem solving The object is to see how quickly the group can pass an inner tube over and under individuals in the circle while holding hands. Obstacles placed along the way, such as the inability to speak, see or move increases the level of difficulty.
Jeopardy
Application: Getting to know the organization or department Your organization provides relevant questions and answers to use for a jeopardy game. The group is split in half and the teams play against each other.
Plate pieces
Application: Thinking outside the box, creativity Groups of 2-4 are formed. Each group is given a paper plate. The goal is to maximize the number of pieces obtained when the plate is cut using only five straight lines across the plate.
Scramball
Application: Thinking outside the box, creativity A fast paced thinking game designed after Scrabble. The goal of this game is to spell the most company-related words within a specific time period.

Program Design
Your customized program begins with a private consultation with Angie. A proposed program outline is then developed and sent to you for review. The proposal includes recommended games and activities which address the teambuilding concepts specific to your organizational needs.
Games are also designed according to the size of the group. Teams can rotate through a series of competitive games or work collectively on activities that focus on problem solving, communication, leadership, support and creativity. After Angie receives your feedback, the final program agenda is established.
Program Facilitator
Your program will be developed and facilitated by Angie Mitchell, RD. Angie is the Wellness Coordinator for Educational Services. She has worked with many groups to create a motivating work environment of teamwork, trust, creativity and effective communication.
Program Length and Group Size
Programs are typically two to three hours, but can be modified to the needs of the group. The events can accommodate 5-120 people.
Participant Questionnaire, Waiver and Attire
All participants must sign a Physical Activity Readiness Questionnaire (PAR-Q) and liability waiver form. Participants can easily make modifications to the program activities based on individual needs. Wear comfortable clothing and shoes.