Thomas Livengood, BS, ACSM-CPT
Training Philosophy: The focus on purposeful, goal oriented exercise through meaningful and thorough instruction is key for an individual seeking professional help while pursuing a lifestyle of healthy fitness and wellness.
I want your experience here at NIFS to not only help you achieve fitness prosperity but also develop self-motivation and core fitness values.
Contact: 274-3432 ext. 419

Contact THOMAS ›
---

Alex Soller, MS, CSCS
Training Philosophy: Exercise is a highly individualized activity that needs to be altered in order to fit your goals, needs and enjoyment. No matter your current training status, improvements can be made with proper structure. It is never too late to start!
I graduated in May 2013 with a Master of Science degree in Kinesiology from IUPUI by way of my undergraduate degree in Exercise Science from Valparaiso University. At Valpo, I played football for four years and interned with the head strength and conditioning coach. I bring the same controlled enthusiasm to your workout that I used each time I stepped into the weight room or football field. My specialty is variety. I have experience with clients from all different fitness backgrounds and levels. I am one of the Athletic Performance coaches for the IUPUI sports teams but also have clients with different ranges of general fitness desires. No matter what you are hoping to achieve, I will guide you in the right direction.
Contact: 274-3432 ext. 220
---

Brad Summerlin, BS
—Older Adult Training
—Circuit Training
—Mobility and Stability
—Boxing Techniques
Contact: 274-3432 ext. 262
---

Pedro Mendez, BS
My expertise includes mobility, power development and speed and agility training.

I have been a trainer for NIFS for 3 years. and am a full time Strength and conditioning Coach for IUPUI. I work with the Men's Basketball, Woman's Track and Field, Woman's Cross Country and Woman's Tennis Teams.

I have a Bachelor's of Science in Exercise Science and Masters of Science in Kinesiology from IUPUI. During my undergrad, I interned at IFAST which is known for being one of the top sports performance facilities in the country. I also did an internship with IU Sports Performance during my graduate program. My expertise includes mobility, power development and speed and agility training.

Contact: 274-3432 ext. 206
---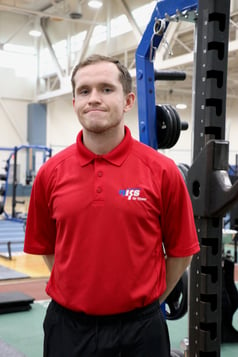 David Behrmann, BS
I received my BS degree from IUPUI in 2014. During my collegiate time I was a member of the Cross Country and Track team.

I am eager to assist clients in areas of their fitness/well-being that include mobility/form, athletic performance, strength, and cardio/vascular training. I hope, as a NIFS trainer, to be a motivating force and resource for clients to achieve their fitness/wellness goals and aid them in their journey to develop a healthy lifestyle inside and out of the gym.
Contact: 274-3432 ext. 262
---