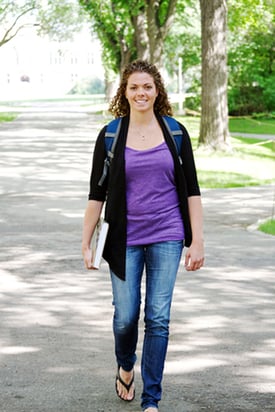 Even though it's been a few years since I graduated, it still feels like I was just walking through campus and living in the dorm. I absolutely loved college, and while many people gained the freshman 15, I took advantage of the opportunity to live on my own for the first time and make lots of healthy habits that I still follow today. Just because I created healthy habits doesn't mean I didn't have an amazing time.

For me, living a balanced life full of fun is essential for being healthy. Here are my top three tips for staying healthy your freshman year and beyond (that leave room for plenty of college-style fun and experiences).
1. Keep a Routine
I am a routine type of girl, but I have come to learn that having a routine is not just a "me" thing. The human body was designed to function on a schedule and to have a routine. Everyone can have a different routine, but I found that I functioned best when I went to bed a little earlier than most people and woke up a little earlier. Of course, I would stay up later on weekends to participate in events, hang out with friends, and attend socials and parties, but I would give myself a curfew (typically midnight) so that I could get some sleep and still feel great the next morning (even after having a great time the night before). The most important thing is to figure out what works for your body and stick to it.
2. Take Advantage of the Rec/Fitness Center
Most colleges and universities have a fitness center or are affiliated with a fitness center for students to use. Guys, this is a no-brainer! Just go to the rec center or fitness center. These places offer tons of group fitness classes, personal training sessions, and weight and cardio equipment for you to do your own workouts, and they are usually open for the majority of the day. Stop making excuses; find a friend and hit up the rec/fitness center. You'll thank me once you do!
3. Walk It Out
I went to a small university, so the farthest thing away on campus was typically a 10-minute walk. That's it! I would only use my car if I had to take a large load somewhere or if I was leaving campus, which was very rare. Walking is amazing for the body because it gets the body moving, but it doesn't put a lot of stress on the muscles and joints. Walking as your form of transportation is a habit that you can start during your college days and then continue throughout the rest of your life! Seriously, just walk. You'll feel great and those freshman 15 pounds will stay far away.
Of course, there are tons of other things you can do to stay healthy in college; these are just a few for you to start with!
Let's hear from you below in the comment section. What are some of your favorite ways to stay healthy?
This blog was written by Tara Deal Rochford, contributing writer, group fitness instructor, and author of healthy living blog Treble in the Kitchen. Meet our other NIFS bloggers.