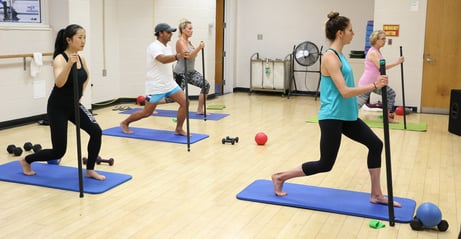 Change is scary. Getting in a comfort zone, routine, or pattern is easy. But why is change for success so trendy nowadays? This applies to all areas of life. Change your diet habits and you start to "magically" lose weight. Change your workout routine and you start to "magically" see results. Change your spending habits and you start to "magically" save more. Change your mind and commit, and you realize change isn't scary; it's successful.
Use Change to Make Changes
I have worked at many fitness studios and gyms, tried many fitness trends and challenges, and been given crap when I tell clients we are doing something different today. But then I explain why and it changes their minds. I'm a firm believer in giving it a chance. You can try something new, and if it doesn't work or you don't like it, we can always change it back to what it was.
I started at NIFS not realizing how much they change the workouts to keep creating beneficial results. I was prepped to manage a typical gym where trainers just keep making you pick up the same weights, do the same motions, and make you do something you "hate" to make it seem like the workout was hard and make bank off that concept. The NIFS program changes weekly. You're set on a four-week plan, but the staff varies your workout routine in that time by changing your sets, reps, and weights. Then by week 5, there is a new plan, new changes, new results, and new continued growth.
Here are some examples of the experiences and results you can get from working with various members of the NIFS staff:
Teamwork Does Make the Dream Work
With a wide variety of options, there is always something for everyone. As a team, we don't let change hold us back. We teach our clients that change creates results. We all practice change daily and are never doing the same thing at our desks, but we're creating programs, events, or requests that will change a member's experience to be the most beneficial. So are you ready to change your mind, change up your routine, and achieve your goals? There are endless options. Find a place to start and follow through. We are here for you!
This blog was written by Brittany Ignas, BS in Kinesiology, 200 Hour Yoga Alliance Certified, Stott Pilates Certified, and Fitness Coordinator. To find out more about the NIFS bloggers, click here.