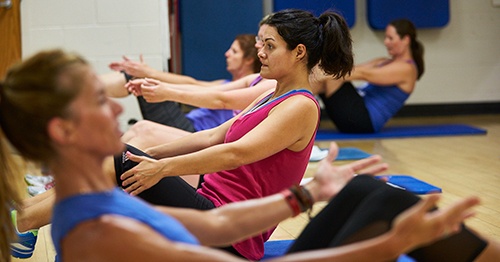 When it comes to working out, I have always been the "faster, harder, stronger, better" type. If I'm not going to sweat and feel like I've accomplished something, what's the use? As such, I never put much stock in mind/body classes. What could that type of exercise possibly offer that I wasn't getting through my intense cardio and/or strength training sessions?
Fellow cardio lovers, weightlifters, and HIIT people, does this sound like you? If so, you can imagine my surprise when I discovered Pilates to be one of the most challenging workouts—physically and mentally—that I have ever done. Adding it to my weekly regimen has pushed my limits, helped me break through plateaus, changed my body composition, and ultimately made me "harder, faster, stronger, better."
How does Pilates do this, you ask? The short answer: by building a strong core, creating overall muscle strength and balance in the torso and limbs, and improving posture. Please allow me to elaborate.
A Little Background
Joseph Pilates, a performer and boxer who, through years of self-study and practice, developed a method of exercise that would not only prove to last, but gain immense popularity, developed Pilates in the 1920s. The original exercises of Pilates in their purest forms were performed slowly in either the seated or lying position. They were carefully designed to train the body to be conscious of movement control, and thus move more efficiently. Joseph's wife, Clara, learned her husband's techniques and developed modifications to train those with injuries. Springs and pulleys were incorporated with the exercises to add resistance, and many could even be adapted to benefit bedridden clients.
Mr. Pilates died having never trademarked his method. His pupils went on to train numerous others, maintaining many of the original concepts but adding their own personal styles. Thus, since its creation nearly 100 years ago, many schools of practice have emerged. In 2000, a federal judge declared "Pilates" to be a generic term. As such, it is impossible to know exactly what to expect from a class simply titled "Mat Pilates."
The Constant: The Core
Despite the plethora of styles, this remains constant: while the core remains at the "core" of the exercise, Pilates evenly conditions the entire body, thereby creating muscle balance and improving posture. No one muscle group is overtrained or undertrained. While the core musculature is the focus, the extremities are utilized to add load to the core, and thus the entire body reaps the benefits.
Take one of the basic exercises, the Plank. Think of all the muscles that must fire to correctly hold, simply hold, a high plank: rectus abdominis, internal and external obliques, transverse abdominis, glutes, latissimus dorsi, rhomboids, trapezii, paraspinals, BUT ALSO deltoids, triceps, hip flexors, quadriceps, anterior tibialis, and more. Then add a movement such as a pushup or a leg extension, and engage even more muscles.
The plank is just one example; all of the exercises and progressions performed in a Pilates class work multiple muscle groups in a very controlled manner, so as to promote muscle and movement awareness and fine-tune strength. Pilates is intense, but low-impact. It is challenging, but modifiable. It will push your limits, but it is sustainable. And it is extremely effective. When performed correctly, it will create an evenly conditioned body, improve sports performance (your golf swing will be considerably more impressive when it's backed by a strong core and balanced muscles), and prevent injuries.
What Can I Expect in a Mat Pilates Class at NIFS?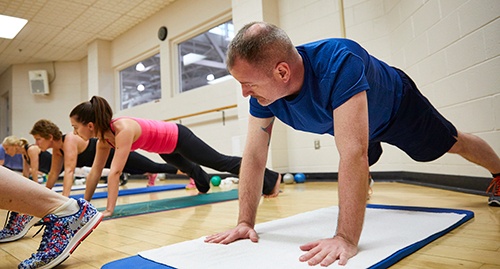 So the ultimate question is, what specifically can you expect when you walk into the NIFS Group Fitness Studio shortly before 5pm on Wednesdays? You can expect a low-impact entire-body workout that flows nonstop for 50 minutes to upbeat, current, familiar music. You can expect careful instruction on form. You can expect an occasional self-assessment on strength and flexibility. And, even though this is not a cardio class, you can expect to sweat! Mats will always be used, and often you will be instructed to grab a small piece of equipment (small weighted balls, light dumbbells, springloaded rings, small towels, and exercise bands are commonly used). Shoes are optional. Let the instructor know if you have any injuries.
As the music comes on (which, did I mention, is always familiar with a driving beat and all original artists?), realize that the next 50 minutes is all yours. It's yours to discover how strong you are, and build on that strength. It's yours to get lost in the flow of the moves, or the flow of the music. It's yours to take breaks or stretch when you need and to modify the moves as necessary or desired. It's yours to build joint stability, improve your balance, and become more flexible.
Pilates has something to offer everyone, from the beginner to the elite athlete. So grab a towel and your water, and I'll see you at 5pm on Wednesdays!
To access the full group fitness schedule at NIFS, click here. Not a member? No problem! Click here to get a free class pass and try Mat Pilates or any group fitness class on us!
This blog was written by Rachel Pfeiffer, ACE and AFAA certified Group Fitness Instructor and Board Certified Neurologist. To read more about the NIFS bloggers, click here. Photos by John Bragg.