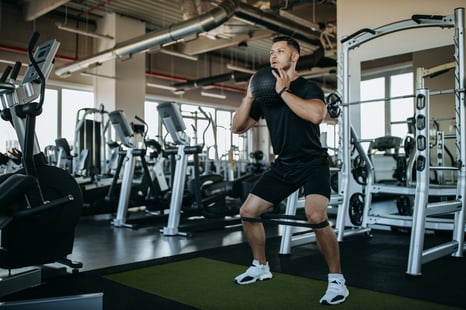 For many athletes and recreational athletes, the arrival of winter and cold weather usually signifies the end of their athletic season. Once the bulk of your outdoor sport competition has concluded or slowed down, reflections of the past year take place. You may have run a personal record in your first 5K, mini, or full-marathon; had your best record in your tennis league; or had the lowest scoring average over a spring and summer for golf. Whatever your sport is or whatever you worked on that previous off-season, the wheels start churning in your mind about how you might be able to continue that improvement for the next season.
As with most things in the athletic world, improvements we make start to get more challenging each year. When you were new to a sport or competition, you might have seen rapid increases in your skills and abilities. But as you progress further, these improvements can become more minuscule and harder to obtain. Below is my "Triple-A" approach to help structure your off-season and make the next year better than the last.
1. Analyze
When you look back at your season, the easiest thing to do will be to remember and reflect on some of your best performances. This is great. Keep those memories and the feelings you had when you performed at your highest level in the back of your mind and use them as motivation for consistency.
But also reflect on some of your competitions where you just didn't "have it." These seem to be the ones that most people, myself included, remember most clearly. The goal isn't to dwell on them, but to think to yourself about what you could have done better. Are there any common "problems" when you compare any of your subpar performances? If so, head to step 2 and see if there might be a way you can address it.
2. Assess
You've taken some time to look back on your less-than-optimal performances from last year, so now what? The next step is to try and see whether there is a way to quantify that issue in an assessment or testing window. Obviously, every individual will have their own unique situation, but here are some examples of things I have encountered in years past within certain sports and how you might be able to assess them:
Lack of sprint speed or lateral quickness (tennis, soccer): Can be tested using 40/20-yard dash or 5-10-5 (see this blog).
Knee pain (running, golf): Could be an issue with ankle/hip mobility or strength related. Schedule a Functional Movement Screen (FMS) or fitness assessment.
Low energy at the end of training sessions or competition (all sports): Many factors could play into this, but nutrition is always a big culprit. Meet with our dietitian, Lindsey Recker (lrecker@nifs.org).
This will take a little work on your part, but help is always available from the NIFS Fitness Center staff. If you don't assess, training is a guess.
3. Apply
Now the fun begins. Once you have pinpointed where some of your performance faults have occurred, it's time to get to work. Your training program should consist of exercises or nutritional practices that are aimed at improving your subpar areas. If you lack speed or agility, add multidirectional running drills. If you want to improve your club head or racquet speed, add rotational power drills. If your pre-practice or competition meals don't give you the energy you need, start formulating a plan that meets those needs.
As I said before, each individual has their own needs. A cookie-cutter "Triple A" approach may yield some improvements, but those serious about making improvements to their athletic skill set will invest a little more time and energy in finding out where the problems are and take a systematic approach to improving them.
This blog was written by Alex Soller, Athletic Performance Coach and NIFS trainer. To find out more about the NIFS bloggers, click here.