A while back I shared this blog with six reasons to run with a group rather than alone. Here are six more reasons.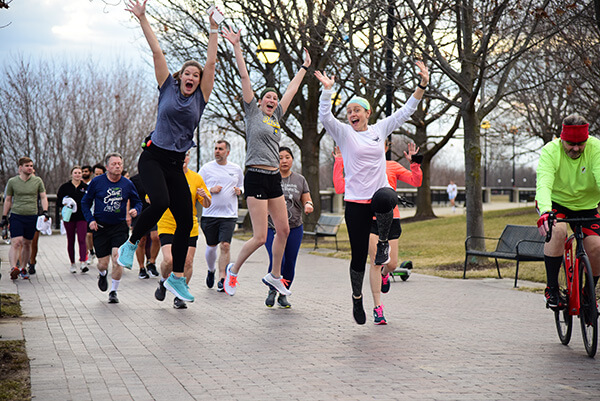 Group running can help with boredom. Although sometimes alone time is nice when running on your own, group runs fly by much faster. You are more likely to explore new routes when running with a group, which will definitely make your runs more interesting.
You will feel a sense of community. Whether you are racing together, volunteering at a race, or cheering on your teammates, it is enjoyable and rewarding to be connected with likeminded people and to be part of something bigger. Runners can really relate to each other and are supportive of one another through running (and non-running) ups and downs. Runners feel certain emotions and find humor in things that only fellow runners can understand. These bonds make runners feel like they are part of a special, tight-knit community.
You will expand your social circle. Running with a group is a great opportunity to meet people with similar interests. Many people have met their spouse, significant other, or close friends through a running group or club.
It is safer to run with others. Attackers or harassers are not likely to go after a group. You are less likely to get lost if you are with a group, and even if you do take a wrong turn, you have each other to figure out how to find your way. If someone in the group gets injured or sick, there is always someone there to help.

You will discover new routes. People like to share ideas, and even if your running group friends live in the same neighborhood, you are all likely to come up with different running route suggestions. Sometimes you think you know the area, and all of sudden a friend offers a route that will boost and spice up your running. A single new route or a tweak to an existing one can keep your running mind fresh for weeks. As a group you may decide to travel to different spots and explore them when running. Individual runners tend to drive to different locations away from home to explore and experience different running scenery.
Entering team events is easier if you are part of a running group. Being a part of group running puts you just one application form away from racing events. The entire group is unlikely to be granted places behind the start line at the coveted Indy Mini Marathon, but there are many races across most of the countries in the world where a bunch of friends can have a great day out. Cross-country is a firm favorite everywhere, but there are also races where you will be running laps, and relay races where you are taking turns with your friends, each running a certain distance. Friends can also join ultra races where you can run, walk, eat, rest, walk, then run some more (if you still can) for anything from 50K onward. There are multiple options out there. Get busy and have fun!
This blog was written by David Behrmann, NIFS Health Fitness Instructor.To learn more about the NIFS bloggers, click here.