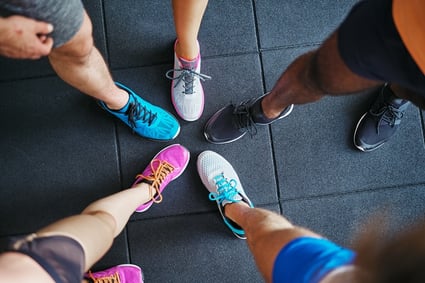 Believe it or not, shoes do serve a higher purpose than just to make a fashion statement—especially when you're choosing shoes to wear to the gym. Now, my first example is rather obvious, but it gets the point across. Would you ever enter the gym for a workout wearing high heels? That's for you to answer, but there are safety issues that arise from wearing stilettos to the gym. More specifically, footwear is of concern if any of the big lifts such as squatting, running, jumping, and weightlifting are programmed into your workout.
Let's start by laying the ground rules. Given that your footwear is the avenue by which you gain momentum necessary for movement, it is extremely important to be conscious of your goals, your workout, and your footwear. After all, the only object in contact with the floor is your shoes! A wide variety of shoes are made for different surfaces and sports; however, they fall into three basic categories: performance footwear, running footwear, and cross-training footwear. Let's take a deeper look at each specific type of athletic shoes.
Performance Footwear
First, the broadest category of shoes is performance footwear. This includes shoes engineered for nearly every specific sport, indoors or outdoors. Each shoe is carefully designed for specificity of sport as well as durability of surface, especially at the elite and professional level. A good example is basketball shoes, which are usually high-tops to help prevent ankle sprains. Soccer cleats, track spikes, football and softball cleats, and others all have spikes that can dig into the playing surface to make cuts sharper and aid in injury prevention.
Other specific shoes occasionally seen in a gym setting are powerlifting shoes and Olympic lifting shoes. Powerlifting shoes are low and flat, with a solid sole that is good for deadlifts because it puts you closer to the floor. It also allows you to push through the whole foot throughout the entire lift. Conversely, Olympic lifting shoes are made with a slight heel to allow athletes better mobility during lifts such as a squat and snatch, where lack of mobility would decrease performance drastically. They are also designed with a solid surface for the sole, tailored to the demands of the sport.
Running Footwear
The next type is the running shoe. Keep in mind that not one foot is the same size or shape, perhaps not even your other foot. Therefore, sizing can be difficult.
A standard running shoe tends to be manufactured with more cushion than other shoes, which in turn allows for less force on the hip and knee joints when running. The shoe design should offer sufficient traction needed to grip the surface and optimum weight distribution in order to ensure safety. They are ergonomically designed to absorb the ground-force reaction when the mid-foot strikes the ground, instead of sending the shockwave up the shin to the leg, commonly known to cause shinsplints.
Cross-training Footwear
Last is the training shoe, also known as the cross-trainer. This shoe is the most versatile of the three and can be used for small amounts of running, jumping, and lifting, but is mainly used to do lateral movement as well as plyometric workouts. Because the shoe is primarily a lower shoe with good support, it is made so you cannot easily roll your ankle or twist your knee when planting your foot into the ground to change direction as quickly as possible.
***
Choosing the right equipment for your workout is very important, so know the different types of shoes and choose the ones that are best for the activity that you will be doing.
This blog was written by Cara Hartman, NIFS Health Fitness Instructor. To find out more about the NIFS bloggers, click here.