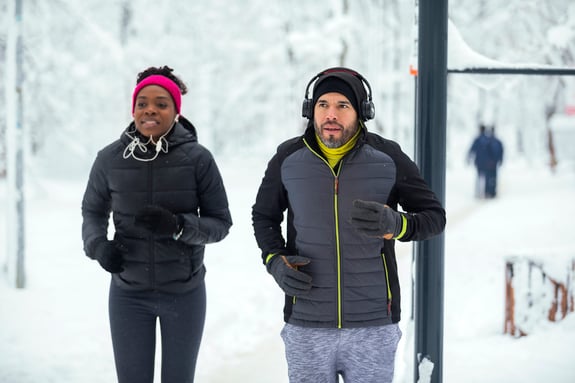 Winter can be brutal when it comes to getting out the door for a run or walk, however having the right apparel can leave you barely noticing how cold it is outside. With the improvements in the quality of winter gear that popular runningapparel companies such as
Craft
and
Pearl Izumi
have made, you will hardly notice the cold once you get going!
I visited Runners Forum to take a look at some of the new apparel that they have in stock this year and was very impressed with all they have to offer for this winter. After speaking with the store manager, we came up with 8 essential items you must have before you hit the streets on those cold days:
1) Running Shoes- No matter what the season it is critical that you are running in a shoe that is right for you. Not having a proper shoe specific to your body mechanics can lead to injuries or discomfort during the run or walk.
2) Wicking Base Layer- A long sleeve shirt that is efficient in wicking the moisture away from your body is important for both function and comfort. This piece is responsible for moving your sweat away from your body and out to the additional layers to keep you dry and warm.
3) Insulating Layer- This layer is generally fleece lined and continues moving moisture away from your body. It has the added responsibility of trapping body heat you are producing to keep you even warmer.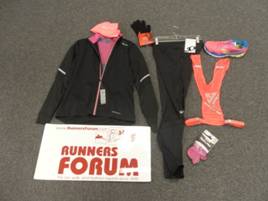 4) Wind and Water Resistant Jacket- For the most dreary days that involve sleet, rain and snow, a high-tech jacket can make a huge difference in your comfort level. Not only does it protect you from these elements, but it too will continue to wick away moisture from your body and trap your body heat.
5) Gloves and Socks- Also preferably in moisture wicking, these are crucial for keeping your fingers and toes warm and dry playing a huge factor in trapping your body heat. Additionally your fingers and toes are at a high risk of becoming frostbit on the coldest days so this is a piece that you can not afford to go without.
6) Running Tights- Since your legs are doing a majority of the work, you are producing a lot of heat in this area. Tights will be most efficient in holding in heat, but if tights are not your style, than a light insulated running pant will be your best bet.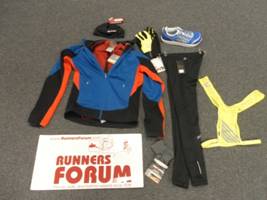 7) Winter Hat or Headband- Similar to your toes and fingers, your ears are at a high risk for frostbite. Cover your ears and head to avoid this as well as add warmth to the area for comfort.
8) Reflective Gear- In the winter, the days are shorter which means many of your runs may start or finish in the dark. To be safe, wear as much reflective clothing as you can so that you can be visible to cars and others. Many winter clothing pieces are indeed reflective but a reflective vest is a good substitute.
This blog was written by Stephanie Kaiser, Fitness Center Manager. To find out more about the NIFS bloggers, click here.