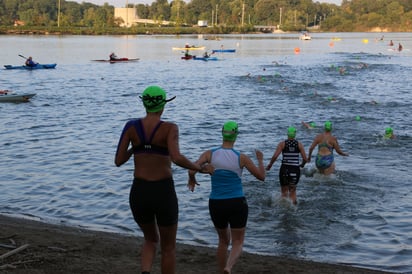 Following on from part 1 of this blog, where I talked about goals, there are few fitness achievements that are more impressive than completing a triathlon. The combination of running, swimming, and biking along with power, endurance, perseverance, and attitude are imposing, especially for those who have never completed one before. The traditional Ironman races are comprised of a 2.4-mile swim, a 112-mile bike ride, and a 26.2-mile run for a grand total of 140.6 miles.
The Event Takes Many Forms
You can't wake up today, without training, and begin to dream of the goal of finishing such an event. Most people will never complete a true Ironman triathlon in this form, but there is hope. Through the vision of great-minded individuals, we have a multitude of triathlon options that tinker with the original chemistry to create some equally impressive challenges for all levels. There are indoor versions that are held in the friendly confines of a gym (usually with a pool); there are sprint triathlons that modify the distances to a 5,000-meter run, 250-meter swim, and 14-mile bike ride. Notably, NIFS has been involved with a women-only triathlon called the Go Girl, the Indianapolis event of which is held at Eagle Creek Park. With so many options available (more will surely surface), there is hope for our triathlon aspirations after all!
Why Would Anyone Want to Do a Triathlon?

Why would you ever want to do a triathlon in the first place? Kris Simpson, a personal trainer and triathlon coach at NIFS believes, "It is great cross-training" and "it can test your mental toughness by getting out of your comfort zone, especially if you have been traditionally a single-sport athlete." With that being said, getting into a structured training regimen with focused end goals might be just what you need to awaken your inner athlete and competitive drive.
According to another triathlon finisher, Kaci Lierman, competing the tri event is a monumental occasion. Hours of hard work cumulate in that moment when you step across the finish line and take a deep sigh of relief. A sense of accomplishment, wholeness, and pride overtake you. You can stop there if you like, but the endorphins from the actual high are so great, you might want to do it again and again.
NIFS Training for Triathlons
How does one train for a triathlon event? You could train on your own, but with so many small details (think transition training, bike maintenance, and clothing management), it's beneficial to seek guidance from a seasoned professional. NIFS offers such training, catering to beginners who are new to the event, as well as triathlon veterans trying to get personal bests.
NIFS group training currently includes the Go Girl Triathlon Training Program. Women who are interested in the training program can contact Kris Simpson at ksimpson@nifs.org for more details regarding times, dates, and signup deadlines. Don't limit yourself to traditional triathlons; you can find an event that best suits your abilities, needs, and training module length. The commitment to greatness is huge, but the rewards are even bigger. Dream BIG!
This blog was written by Thomas Livengood, Health Fitness Instructor and Personal Trainer. To read more about the NIFS bloggers, click here.