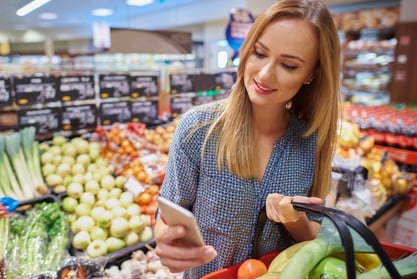 Every day Americans waste a lot of food. One statistic states that we throw away up to 40 percent of the food that is purchased! This is usually due to the fact that even though food costs are rising, no other nation spends less on the food supply. Since food is so abundant, especially with the warehouse options like Costco for grocery shopping, it makes it easier to not value the food and therefore toss more in the trash.
Tips for Reducing Wasted Food
Here are some simple and practical tips to help you contribute to reducing food waste in America.
Shop smart. This is the easiest and most practical one to follow. When you go grocery shopping, don't buy too much food! This might mean going to the store more frequently or just buying less each time you go. Plan your meals and snacks and then make a list. When you get to the store, actually stick to the list.
Practice portion control. This one is tough! Following portion sizes is a challenge since we tend to over-serve ourselves; however, if you are eating the correct portions, then the food isn't being wasted. A typical serving of a side dish, from potatoes to vegetables, is ½ cup and meat is 3 oz. Start measuring every so often to keep portions and calories in check and get the right nutrition.
Save and EAT leftovers. If you are sticking to proper portion sizes, chances are you will have leftovers of food. Use this opportunity to have lunch or dinner ready for the next day instead of eating out or struggling to come up with an idea of what to cook. If you did eat out and brought home a doggy bag (since restaurant portions can be very large), be sure to eat your leftovers within a day or two.
Use an app to help. Handpick is a useful app that allows you to put in what items you have on hand and it will generate a recipe for you to make. There are thousands of recipes to choose from, so chances are one will appeal to your taste buds.
Use expiration and sell-by dates as guidelines. These dates refer to food quality and not food safety. A food doesn't automatically turn bad on the exact date that is printed. This is just a guideline. When eating a product after the date listed, use your senses. Go by your smell, sight, and taste.
Keep Track of How Much You Throw Away
Try to start implementing some or all of these tips so you can decrease your personal food waste. Each week take an inventory of how much you had to toss and try to make it less the next week. You will end up saving money and calories, and maybe moving closer to being a zero-waste home.
This blog was written by Angie Mitchell, Registered Dietitian and Wellness Coordinator. To find out more about the NIFS bloggers, click here.