Les Mills® BODYPUMP™ has changed my life. There are hundreds of workouts to choose from, but this one…it's all mine. It's my workout rock, the base of my week, and the base of my training. Why do I do it? Keep reading.
How I Got Started with BODYPUMP™ and Why I Stay With It
I have to give credit to my sister for starting what some would call an obsession. She discovered BODYPUMP™ and became an instructor. She knew I wanted to be a group fitness instructor and she showed me how to do it through Les Mills. She invited me to take her BODYPUMP™ class and I fell in love with it after the first class. I very clearly remember her telling me that I burned 400 to 500 calories and I thought, "That's like an extra meal!" I was hooked. The music, the repetitions, the strength behind it; it's not traditional weightlifting—it's better!
After the initial love bubble, the true test of a program comes: will you keep coming back? What kept me coming and still does to this day is the effectiveness of the workout. Before starting BODYPUMP™ I was unable to do a single pull-up on my own. After about 6 months, I was able to do one. Then two… then three…without actually practicing pull-ups. It doesn't matter how many different workouts I try, I always own them and continue to impress others with my strength. I may be small, but I'm mighty and I wouldn't have gotten there without BODYPUMP™.
The Dynamic BODYPUMP™ Workout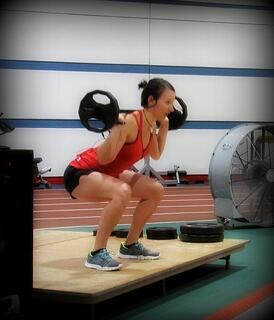 Les Mills BODYPUMP™ is a very dynamic program. It's always changing and evolving. It's stable enough that I know I will always get a good workout, but it's never stagnant. It continues to push me and my fitness level with every release. I am now a National Trainer, Presenter and Assessor for Les Mills BODYPUMP™ and I see every day how both new participants and experienced weightlifters can be both welcomed and challenged by this program. When I look out in class and see 20+ people waking up at 6am to work out with me and do BODYPUMP™, I know we have something special. I can speak from experience that we get stronger with every class. We are more than just a group of people who work out. We are a team of friends working toward a common goal of increasing our fitness and enjoying the feeling of success that only BODYPUMPers know when they finish a set with 8 bottom halves.
BODYPUMP™ has made me strong and keeps me strong. And that is why I do what I do. BODYPUMP™ is offered every day of the week, so check out the Group Fitness Schedule to find a class that works with your schedule. Aim for 2 to 3x per week for the best results. Request a class for free and enjoy!
This blog was written by Tasha Nichols, Group Fitness Manager and Program Coordinator at NIFS and a Les Mills US National Trainer, Presenter, and Assessor. Meet our NIFS bloggers.