It is that time of year again…the holidays are coming up fast! Life gets extra chaotic for many of us this time of year, and good fitness and nutrition habits are at a high risk of slipping.
The good news is that NIFS is here to help you keep from slipping too far down this slippery slope during the holiday season! We are happy to offer two different programs that are FREE to all NIFS members during the months of November and December year after year.
Maintain Not Gain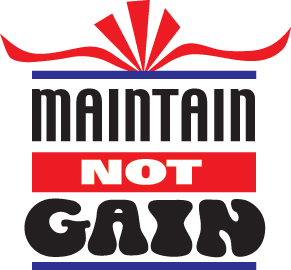 Give yourself a little bit of extra accountability by signing up for Maintain Not Gain. This program incentivizes members to maintain their weight throughout the holiday season. With group workouts every two weeks, weekly emails packed with nutrition and fitness tips to keep you engaged, and prizes for those who maintain or lose weight during the duration of the program. There is something that everyone can benefit from by signing up for this free program. Don't miss out on this experience and mark weigh-in week on your calendar for November 1 to 7.
The Rowing Challenge
All in good fun, the rowing challenge never disappoints for a good competition year after year! It is pretty simple: pick a team and ROW! The team that rows the most meters per person and the team with the highest total meters rowed earns bragging rights as team winners. Joining a team is an excellent way to ensure you are getting in some extra bouts of cardio and caloric burn during the busiest time of the holiday season, which means you are earning yourself some leeway to have a little more room to indulge. Your team will be depending on you to row towards the win!
Look to sign up for a team November 10 to 23.
Free Fitness Assessment
Along with both of these programs, this is a great time of year to take advantage of your free fitness assessment and exercise plan from our team of Health Fitness Specialists. If you are looking for a new routine or just need a little more guidance we're here to help you.
Don't let the holiday season get the best of you this year. Your fitness and nutrition habits do not have to completely derail. Let NIFS help you find the right balance between fitness, food and fun this year!
This blog was written by Stephanie Kaiser, NIFS Fitness Center Manager. To find out more about the NIFS bloggers, click here.