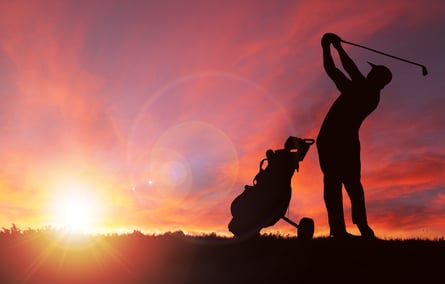 It's finally that time of year again—time to hit the links and chase a little ball all over a well-manicured green space with the hopes of golf immortality. If you are like me, you have a love/hate relationship with the sport of golf, but I look forward to my weekly round with friends to take on challenging courses and ultimately myself.
All levels of golfers are continually looking for ways to improve something in their game and to get out there more and more to test their skills. But are you taking the necessary steps to make sure you are able to lace up the spikes, strap on the glove, and swing a club anywhere from 70 to 100 times in a 3- to 4-hour span? We can plan practice like crazy on the short game, driver, and flat-stick, but if you can't move well, or if you have an injury, you won't be booking that tee time.
As an avid golfer myself, and an aging one at that, I have found some ways to ensure I can enjoy the game that frustrates me so much at times but provides aspects you just can't get anywhere else. That's why we play. Here are some tips to help you play longer and, ultimately, better.
Get Screened
Do you know whether you are moving well? Do you know whether you have some mobility issues in key joints for the golf swing, or imbalances? If you do, are you performing specific strategies to help correct and enhance any movement problems you may have? You wouldn't expect a Corvette to drive at a high performance level if it had square tires, would you? But often we golfers expect to play in the 70s with glaring movement issues and become rather frustrated when we do not. See a certified pro, like all the coaches at NIFS, and get an FMS (Functional Movement Screen) completed to see if there are any movement deficiencies that could be holding you back on the course. You will receive an in-depth report of how you are moving and a bunch of strategies to help make your movement better. Our coaches take the approach of Gray Cook: that when you move well, you will move often; and in this case, moving better means more golf.
Emphasize Mobility
If you want to hit the ball farther, and more often, you have to emphasize mobility exercises and drills in your fitness routine when you are not playing, especially mobility of the thoracic spine. The rotation of the golf swing comes mainly from your ability to "turn" through the T-spine, or upper back area. The larger the turn, the greater the potential swing speed you can create, which can lead to bigger drives and adding yards to all of your clubs. You will receive drills from your coach after completing your FMS, and you can also read more on the importance of T-spine mobility from experts like Greg Rose and others at the Titleist Performance Institute. In most if not all athletic environments (life being one of those), it truly has to start with mobility. The more mobility you have, the more potential you can unleash.
Train the Frontal and Transverse Plane
Working in a fitness facility I witness on a daily basis a lack of training emphasis on the frontal and transverse planes of motion. We are a pretty straightforward kind of fitness planet, and not in a good way. And many times I field questions about an injury that happened on the golf course from individuals who have never trained outside of walking in a straight line, or straight presses and pulls. They are confused that they move explosively in a plane of motion they never train and somehow get hurt. The golf swing happens in the frontal and transverse planes of motion, so you need to train with movements that challenge you in those planes. Countless exercises and drills can get you out of the sagittal plane (forward and back), and prepare and load your body to take on a big swing as well as provide the endurance to perform many swings. Here are a few of the classics:
Warm Up Properly
This really should go without saying, yet I have to: WARM UP BEFORE YOU PLAY! Racing to the course, pulling the bag out of the trunk, stepping to the first tee, and hitting the big dog after a few practice swings is a sure-fire way to at best play poorly, and at worst suffer a big injury that takes you out for the season. Take the time to show up a little earlier and warm-up properly. As I typically do, I reference the experts. I learned this quick and effective warmup from Jason Glass that I use every time. If you don't dig this one, that's fine; just do something to prepare your body to perform for that 3- to 4-hour round of golf.
RICE After the Round
If you don't know by now, RICE stands for Rest, Ice, Compression, and Elevation. You don't have to suffer a trauma to enlist and perform this concept. Ice can go a long way in the recovery process, and that is the goal here, to recover quickly and get back on the course. You don't think the pros finish up, go get some dinner, and hit the rack, do you? No way! They recover properly so they can swing well every time they step on the course. Take time to perform a light stretch after a round, jump in the hot tub, or ice down sore muscles after you are done enjoying this great sport. It will get you back out quicker and you will be playing longer.
This blog was written by Tony Maloney, ACSM Certified Exercise Physiologist and Fitness Center Manager. To find out more about the NIFS bloggers, click here.