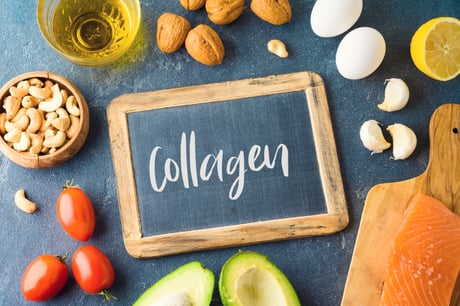 Collagen is the most plentiful protein in the body and the primary structural component of connective tissues found in your bones, cartilage, tendons, ligaments and skin, aiding in their elasticity and strength. Our bodies naturally produce collagen; however, its production declines as we age, especially when paired with poor diet, excess alcohol use, lack of exercise, excess sun exposure, or use of tobacco products. The degradation of collagen and collagen production can lead to wrinkles and an aged appearance, both of which are feared in our youthful appearance-obsessed society, leading to an increased consumer interest in collagen and collagen-containing products in recent years.
Collagen Supplements: How to Buy It and What It Might Be Able to Do
Collagen supplements are available in a variety of forms, including powders, pills, and fortified foods. They are often sold as "hydrolyzed collagen" or "collagen peptides," both forms of collagen that have already been broken down and are therefore more readily absorbed by the body. There is some evidence to suggest that collagen supplements can improve skin elasticity and hydration, promote wound healing, and improve joint mobility and pain, and are generally deemed safe with no reported adverse health effects. However, the evidence that is available to support these claims is often unclear (for example, the exact dosage to experience benefits) or funded by related industries or authors with ties to those industries who may benefit from positive research outcomes, presenting a potential conflict of interest. Additionally, as with all other dietary supplements, collagen supplements are not assessed by the Food and Drug Administration (FDA) prior to being marketed; therefore, their efficacy and safety is not guaranteed.
Should You Take a Collagen Supplement?
Currently, there is not enough evidence to provide clear recommendations to support or advise against the use of collagen supplements. However, when searching for any supplement, including collagen, look for those with USP or NSF certifications on the label, which indicate that the product has been tested by a third party for purity, potency, and safety. Additionally, you should always consult a health care professional, such as your physician, prior to starting any supplement.
How to Protect Your Natural Collagen
Finally, there are some ways to naturally protect your body's natural collagen without taking supplements:
Wearing sunscreen every day: UV light from the sun breaks down collagen.
Eating a healthy diet, with plenty of fruits and vegetables: Fruits and vegetables are rich in antioxidant Vitamin C, which can help protect collagen from damage and breakdown.
Controlling stress: Some studies have shown that chronically high cortisol (stress hormone) levels are associated with decreased collagen production.
Quitting smoking and limiting smoke exposure: Smoking may decrease the rate of collagen synthesis in the body.
Getting enough sleep: The National Sleep Foundation recommends between 7 and 9 hours of sleep each night for most adults.
This blog was written by Lindsey Recker, MS, RD, NIFS Registered Dietitian. To learn more about the NIFS bloggers, click here.