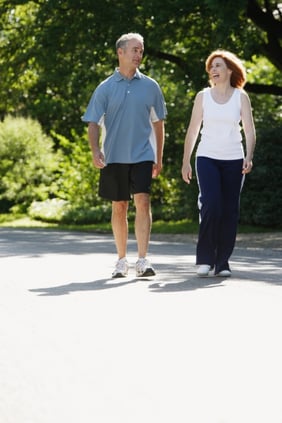 Cardio, short for cardiovascular exercise, has been around for a while—really, since the beginning of time, if you think about what cardio is and what it does for our bodies. In essence, we are doing cardio all the time, just at various intensities (if we weren't, we would not be reading this!). The primitive man did cardio to stay alive, the Pan-Hellenic Games of Ancient Greece introduced cardio as a sport, and in modern times we do cardio to replace the manual labor that produced enough calorie consumption and expenditure to keep our bodies lean and strong.

There are many types of cardio that we do to stay in shape, and many arguments about which equipment is best for burning calories. Of the cardio that is mentioned, running and walking usually come up most in discussion about which is the better cardio. Here, I discuss this topic and get to the bottom of this fitness impasse.
Running Pros and Cons
There are always two sides to a story. Running, obviously the more rigorous of the two, carries many benefits, including strengthening the heart and lungs, improving blood flow and circulation, burning calories, etc.
There can also be a case made that running isn't all it's cracked up to be. A lot of wear and tear on the body occurs over the course of a runner's life, whether it is your feet, knees, or hips (Weil, 2015).
Walking Pros and Cons
On the other end of the spectrum, we can look at walking for cardio in the same light. The benefits of walking include calorie burning, but vary to include stress reduction. The impact of walking is definitely less on the cardiovascular strength side, but it provides much-needed exercise to individuals who cannot physically run (Caton, 2012).
From the calorie-burning standpoint, walking can burn as many calories as running, assuming you do the same amount of work. This means that it will take you longer to burn 100 calories walking versus 100 calories running.
Running and Walking Are Both Good!
One thing that I have learned both professionally and personally is that not everyone is a great marathon runner, and not everyone has time to be a successful cardio walker. The main thing to take away from this message is that cardio, whether it is through walking, running, biking, or swimming, is essential to good health, feeling your best, and sustaining a long and productive lifestyle (Thompson, et al, 2013).
I encourage anyone who is not currently doing cardio to start (albeit slowly) incorporating a cardio program into your life. The discussion here really isn't about whether running is better than walking, but that we do something to get going and make the effort to better ourselves. There are no sabertooth tigers to chase us around anymore, but we can see results by incorporating the most simplistic of exercises, walking and running, into our routines.
We can help! NIFS training staff is eager to meet you and help you develop your fitness program. Stop by the NIFS track desk to schedule a consultation today!

Rejoice and Evolve,