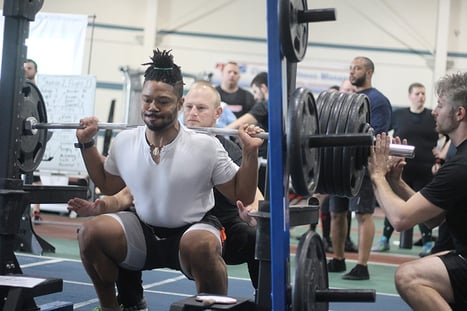 For years fitness enthusiasts have used the colder months of the year as an opportunity to put on muscle mass (or

muscular hypertrophy

) without having to expose the additional fat mass they have added in their attempt to grow bigger muscles. It's traditional to believe one must participate in a "dirty bulk" followed by a "cutting phase," which is a method used by many bodybuilders. Many of them will add an excessive amount of fat and muscle size, and then transition to their cutting phase, which consists of a decrease in body fat while attempting to maintain as much muscle as possible.
This method has been shown to be effective at developing "Quick Gaines"; however, the period of carrying excess fat is often not pleasing to the eye of the weightlifter.
Getting rid of the excess fat after you have obtained it may also be more challenging than you expect. If you are a guy or girl interested n muscle building this bulking season but would prefer not to pack on the extra fat mass as well, I'm here to break down how this can be done through various methods.
Two Methods for Building Muscles
There are two different types of muscle hypertrophy: sarcoplasmic and myofibrillar.
Method 1: Sarcoplasmic is defined as an increase in muscle cell size due to an increase in the volume of sarcoplasmic fluid within a muscle cell, with little strength increase. This means a person is able to obtain bigger muscles through expanded muscle cell size without necessarily increasing the amount of strength and power the muscle can produce. This type of hypertrophy is often seen in bodybuilders as they are primarily concerned with increasing size for show purposes rather than worried about strength gains.
Method 2: Myofibrillar hypertrophy is defined as an increase in muscle size due to

an increased number of actin and myosin contractile proteins

. This type of hypertrophy does allow for an increase in strength. Myofibrillar training involves heavy weight with low rep ranges (specifically 3–7 reps). Because heavier weight is lifted, muscle size can increase as well as overall strength capabilities of the muscles being utilized. The formula is simple: bigger muscles allow for higher strength thresholds.
To get a better grasp on these two concepts, consider this image. One circle (muscle cell) increases due to increased volume (sarcoplasmic fluid), while the other increases in size due to increased concentration of myofibrils (actin and myosin).
Choosing Your Hypertrophy Method
So which type of hypertrophy should you go for? That depends on what your personal goal is. Ask yourself these three quick questions before you approach method 1 or method 2:
Do you wish to gain muscle size only for physique purposes, or do you wish to improve your strength as well? (Physique purposes = Sarcoplasmic; physique and strength purposes = Myofibrillar)

Will I be more consistent/enjoy lifting heavy weight and fewer reps, or moderate to moderately heavy weight with a higher rep scheme? (Being able to remain consistent will play a huge role in the results you see.)

What is the average time I will have to complete my workout? (If you have less than 1 hour you may want to go with higher-volume training. High-volume training calls for shorter rest periods due to faster muscle recovery vs. heavy load training, which requires longer rest periods due to slower muscle recovery. Higher volume/shorter rest period training also adds an element of cardiovascular conditioning as well due to an extended period of elevated heart rate.)
In my opinion, a strategic combination of both methods would be ideal for maximum functional hypertrophy. The Sarcoplasmic method ensures you are not just gaining muscle size, but also increasing cardiovascular conditioning. The myofibrillar method also allows for increased muscle size; however, your overall strength capacity will improve as well. Combining both methods together in a comprehensive exercise program will allow all aspects of muscle hypertrophy, strength, and cardiovascular conditioning to prevail.
Make an appointment today with a NIFS Health Fitness Specialist to figure out how to attack this bulking season!
This blog was written by Darius Felix, Health Fitness Specialist. To find out more about the NIFS bloggers, click here.