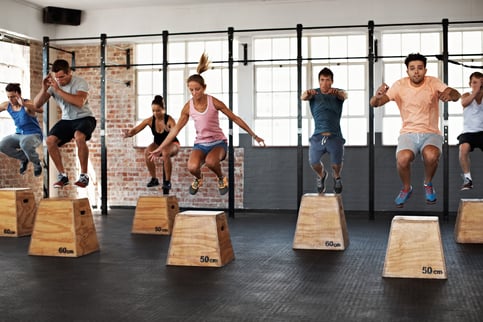 In the most basic definition, plyometrics refers to jump training. Known to be a key component of many sports, such as basketball, soccer, gymnastics and football, plyometric training can enhance athleticism, strengthen the most powerful muscles in your body, and much more.
Here are some of the benefits of plyometric exercises, and how to safely add plyometrics to your workout routine.
The Benefits of Plyometrics
For you to propel your body off the ground and land safely, many things have to happen in your muscles, tendons, ligaments, and joints. Studies show that plyometrics can help you build muscle as effectively as conventional weightlifting, and if you combine the two, it can help you reach your goals faster than focusing on either one alone. Also, the impact your body absorbs from landing has benefits for your bones: they become stronger.
If you are an athlete, plyometrics can improve your agility and explosiveness when it comes to fast-response moves, such as sprinting, quick direction changes on the field or court, and jumping (such as going for a header in soccer).
How to Get Started with Plyometrics
If plyometrics is new to your workout, as with anything you should start small. This is especially important for plyometric exercises. Correct form is crucial, as you need to both lift your body off the ground and control the landing. This dual action makes plyometric exercises more difficult and complex than most exercises. If you have a movement deficiency, it will be magnified when the speed and power of a jump are applied to it.
When learning a new plyometric move, you should first perform the move without the jump to perfect the form, strength, and stability that is required to do it correctly. Once you have all of that, you can then add the jumping movement. Another way to start small is to choose lower-impact plyometric exercises, such as jumping jacks, jumps in place, and line hops (side to side, forward and back).
Do not ignore the upper body: plyometric pushup and medicine ball throws are great for building explosive power above the waist. Always be aware of your form. When you become tired, form tends to suffer, and the risk of injury increases.
Is there anyone who shouldn't do plyometric exercises? The short answer is no, as long as your doctor has not identified a reason why you should not (such as deteriorating joints or bad knees). If you are significantly overweight, gradually adding plyometrics is the key—and stay away from high-impact moves altogether. Remember that doing too much too soon—or doing advanced exercises before you are ready for them—can stress your joints, increasing your risk of injury.
Stay tuned for part 2 of this plyometric blog. You can also read about some plyometric building blocks here.
This blog was written by David Behrmann, NIFS Health Fitness Instructor.To learn more about the NIFS bloggers, click here.