Do you ever stop to pay attention to your breath? Observe it now. Is it shallow? Is your inhale longer than your exhale? When we are stressed, we breathe more shallowly. When we relax, our breath deepens. What follows is a simple breathing technique that can help you lower your heart rate and manage your stress.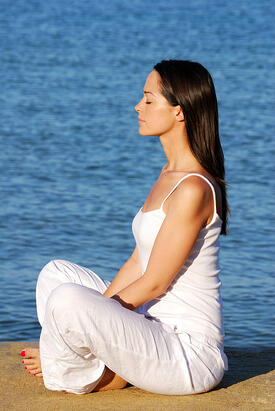 Get into Position
Before you begin, check your posture. Often a slumped posture makes it more difficult to breathe deeply. Sit at the edge of a chair so that you can tilt your pelvis forward to bring the natural curve into your low back. Place both feet on the floor about five or six inches apart. Bring your head back so that it is in line with your spinal column.
Doing the Deep-Breathing Exercise
This exercise is a three-part breath used often in yoga classes. Follow these steps:
Place one hand on your belly and one hand on your ribcage. Observe your breath and state of mind.
Now, begin to deepen your breath so that you feel your belly pushing out.
Next, feel your ribcage expand.
Finally, feel your collar bone lift up toward your chin. As you exhale, your collar bone lowers, your rib cage compresses, and your belly flattens.
Try counting the inhale and exhale to make sure they are the same length. We tend to breathe more deeply on the inhale than the exhale.
Breathe like this for a few minutes.
Now, rest your hands on your lap. Again check in with your state of mind and your breath.
Other Benefits of Deep Breathing
According to scientific research, deep breathing not only lowers stress and blood pressure but can also affect the brain, the immune system, and digestion. You should be able to feel the effects of this practice as it triggers your parasympathetic nervous system or relaxation response. To learn more about how breathing affects your mind, body, and spirit, click here.
Practice this breathing technique at one of our many Yoga classes at NIFS! Try a class for free today by requesting a Free Class Pass here!
Blog written by Laura Haehl, Yoga Instructor at NIFS. Meet our NIFS bloggers.