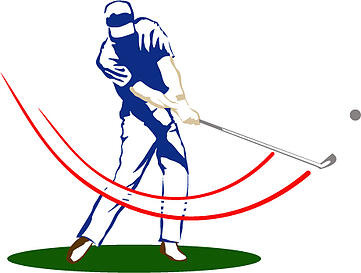 No, I'm not going to fix your slice or tell you how to hit out of a bunker (I still can't fix that myself). What I'm going to do is give you a few fitness tips that could potentially help add some yards off the tee or with long iron shots.
Getting More Distance on Your Shots
One of the best ways to bolster the distance of your shots is to increase the club head speed during your swing. Now, you are probably thinking, "Okay, I'll just swing harder than I normally do." Those of us who have done that before already know the outcome is not favorable for scoring par or birdie. The ball probably ended up two fairways over or at the bottom of a lake and left you saying, "I almost crushed that."
What if there was a way to increase that club head speed without altering the mechanics of your swing? The concept of rotational power may be the key to unlocking that extra 10 to 15 yards for that tee shot. Rotational power is something I focus very heavily on with any of my teams that involve a swinging aspect (such as golf, tennis, and softball). It involves moving your upper body/torso and hips in a circular path to generate a large amount of power while keeping under control. Increasing the ability to generate this force (getting more powerful) will allow you to feel like you are taking your normal swing but have a little more "oomph" behind it. Simply put, you are able to swing harder by increasing the ability of those muscles that are important to the swing.
Training to Increase Rotational Power
Now, how should you go about training to increase your rotational power? Luckily, the NIFS Fitness Center has a ton of tools that can provide opportunities to do so. I am going to focus on one piece of equipment for this specific goal, which are the Dynamax balls located at the south end of the fitness center floor. The following three exercises are designed to help you become more powerful and hopefully improve your game at the same time. Remember, your driver and irons do not weigh a bunch, so use one of the lighter Dynamax balls (I recommend the 10-pounder to start with). The golf swing is a fast event, so focus on the speed aspect rather than the weight during these drills.
Dynamax Pocket Throws (3 sets of 15 per side)
Half-Kneeling Rotational Throw (3 sets of 8 per side)
Overhead Rotational Throw (3 sets of 6 per side with maximum effort)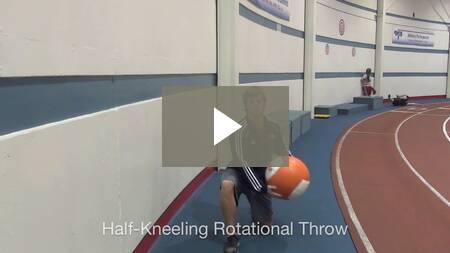 I know there are many more parts to the golf swing than rotational power, however, this is a key factor. Hopefully in a few weeks you will be hearing a louder "smack" of the club and see some extra distance when the ball comes to a stop.
Hit them straight; hit them far!
If you are looking for more ways to improve the strength of your golf swing or have any other sports specific goals, contact me for a free fitness assessment.
This blog was written by Alex Soller, NIFS Athletic Performance Coach. To find out more about the NIFS bloggers click here.