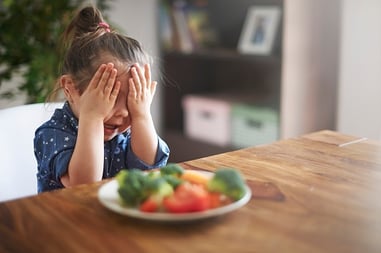 Has dinnertime become the dreaded time lately? Getting picky children to eat can be very frustrating. Children of different ages may respond differently to various tactics. Here are a few ideas for how you can get your child to try (and hopefully like) new foods, and get better nutrition.
Pregnant and Lactating Women

Some research shows that the foods that a woman eats during pregnancy may "program" the fetus' food preferences later in life. Both amniotic fluid and breast milk take on flavors and odors of the foods mom eats. When pregnant and breastfeeding, try these tactics:
Eat a variety of healthy foods to expose your baby to an assortment of flavors and smells. This may reduce the chance that your child will be a picky eater.

Avoid a diet based around

junk food

. Your need for additional calories is not a good reason to eat food that contains no nutritional value. Doing so may increase the amount of sugar needed to experience reward in your child's developing brain, possibly leading to loss of control and binge-eating episodes later in life.
Infants

Feed your baby variety. It often takes the introduction of a new food ten times for a young child to develop a taste for it. Most babies grimace at every new food. Keep trying a food and your baby may learn to like it.
Introduce vegetables before fruits so that the child does not get used to eating sweet foods all the time.

When eating several different foods at one meal, introduce new foods before familiar favorites. If they do not know mashed bananas are available, they may try the lima bean puree.

Do not avoid foods because you do not like them. Your child may learn to like different foods than you.
Toddlers and Children

As with babies, toddlers may refuse foods—not because they don't like them, but because they begin to realize they have a choice. Let your child make other decisions, like what book to read, or what clothes to wear, but not what to eat once the food is on the table. A toddler's growth may be slowing down, so they may eat less. If they are not eating, they may be full from snacks or juice, or they may have been served a portion that is too large. Babies and toddlers will not starve themselves!
Eat with your children, and eat the same things. Dad can't avoid green vegetables, and mom can't avoid bread or starchy vegetables; your child will pick up on that and think they can avoid certain foods, too.

Turn the TV off. Young children need to focus on eating, and distractions such as cartoons will keep them from eating.

Make foods fun! Arrange a fruit salad as a smiley face.

Use cookie cutters to cut sandwiches into fun shapes.

Let kids play with their food, and be tolerant of messes! It helps kids experience the food's texture and smell, and will help them eat it, too.

Make dips out of cottage cheese, tofu, yogurt, guacamole, peanut butter, or pureed fruits and vegetables. Your child can dip fruits and vegetables, rice cakes, toast, or other nutritious foods.

Find a fun character-inspired cookbook, choose a recipe, and make it together.

Serve one food at a time, keeping other options out of sight. Start with new foods or foods the child does not like as well first, and then add familiar foods and favorites.
More Tips for Parents

Here are some more ideas that will help make mealtimes more pleasant:

Don't force your child to eat anything.


At most meals, try to offer mainly healthy choices.

Allow your children to ask for seconds.

Do not force your child to finish a meal, even if they want dessert.

Deemphasize dessert as a prize; don't make children finish their vegetables to get it.

Have your children rate new foods with a pre-made "New Food Chart": have them draw a happy face if they like it and a sad face if they don't.

Finally, praise the child for trying new foods. That will encourage them to do it more often.
Hopefully by trying some of these suggestions, you can get your kids on the road to healthy eating—and start enjoying mealtimes more!
Related: Back-to-School Nutrition with Lunch Makeovers

This blog was written by Angie Mitchell, RD, Wellness Coordinator. To find out more about the NIFS bloggers, click here.