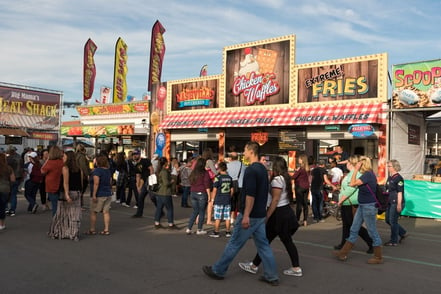 It only comes around once a year, so why not just indulge, right? Well, some of your favorite fair foods might only be consumed once per year, but if you aren't increasing your exercise, too, the extra weight gained can stick around for longer.
Top 6 State Fair Foods—and How to Burn Them Off
Here are some of the more popular fair food items and how far you will need to walk to burn off the calories.
Elephant ear: Average is 310 calories and 15 grams of fat—3 miles
Funnel cake (6"): 276 calories and 14 grams of fat—3 miles
Lemon shakeup: 254 calories: 2½ miles
Deep-fried everything: Fried Snickers, 444 calories and 29 grams of fat; fried Twinkie, 420 calories and 34 grams of fat—either would take 4.5 miles. One Oreo, 98 calories—1 mile
Corn on the cob: 250 calories and 12 grams of fat—2½ miles
Corn dog: 200 calories and 10 grams of fat—2 miles
Fair Food Fixes: Better Nutrition Choices
There are some easy ways to save some of these calories or burn them off. Try these tips:
Think your drink—grab bottled water, sugar-free lemon shakeups, unsweetened tea, or diet sodas to drink instead of empty calories from other beverages.
Don't arrive starving, which can lead to you wanting to purchase everything in sight. Have a balanced snack before you head to the fair.
Share with friends and family so you can try smaller portions of more foods.
Sit down and eat versus walking and grazing. This can help you feel fuller faster and more satisfied.
Wear comfy shoes to maximize your walking! Park farther away and avoid taking the shuttles or train services.
Check out all booths and choose your absolute favorite…you'll eat less and walk more.
As with holidays, vacations, and other events that come around infrequently, the goal is to enjoy the day and then get back to balanced eating at the next meal. All foods can be a part of a balanced diet as long as it is done in moderation. Be sure to plan healthier meals and snacks leading up to and surrounding the higher-fat choices that will be available at the fair!
This blog was written by Angie Mitchell, RD, Wellness Coordinator. To find out more about the NIFS bloggers, click here.