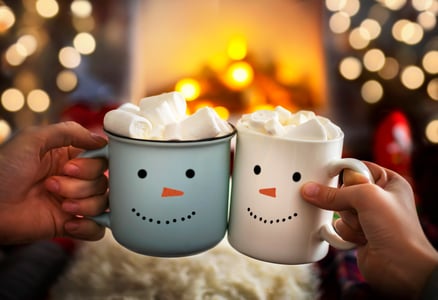 Did you know studies have shown that the average adult gains 0.88 to 1.98 pounds during the holiday season, starting the last week of November and through the first or second week of January? For many, this doesn't come as a surprise, especially as we tend to become more sedentary due to the weather changes and often experience an increase in temptation due to frequent holiday gatherings that focus on food, limited edition "holiday" menu items, and more. This holiday season, set yourself up for success by following these dieting "dos" and "donts" during the month of December.
DON'T: Expect your diet to be perfect during the holidays.
DO: Plan and prepare for temptation and offsets.
Let's be realistic. There are very few, if any, people who have a perfect diet, let alone during the holidays. The holidays are a time of celebration, with food and alcohol often taking center stage at these events. It's important to expect and prepare for temptation and to have a plan of action for practicing moderation throughout the month. Check out these 10 Simple Ways to Stay Healthy While Celebrating the Holidays for guidance on doing so.
DON'T: Skip meals to make room for your holiday meal (or alcohol).
DO: Eat a balanced diet, no matter the day, and practice portion control.
Many people attempt to skip meals to "save up" calories for heavier meals, desserts, and alcohol; however, this approach often leads to binge eating. Instead of cutting out certain foods or practically starving yourself to make up for a big meal, stick to your normal healthy eating habits or regimen and practice moderation and portion control when consuming foods rich in calories, saturated fat, sodium and sugar.
DON'T: Overdo it with the high-calorie, high-sugar "seasonal" beverages.
DO: Opt for a smaller size or customize your drink to make it healthier for you.
Did you know a grande (16 oz) Peppermint Mocha from Starbucks® contains 440 calories, 54 grams of sugar, and 16 grams of fat? Practice moderation by ordering a tall (8 oz) with only 240 calories, 28 grams of sugar, and 10 grams of fat. Or, try customizing your drink to make it healthier by asking that your drink be made with nonfat or plant-based milk, fewer pumps of sweetener/syrup, or without toppings (such as whipped cream or chocolate shavings), all of which can save up to hundreds of extra calories!
DON'T: Skip out on exercise because it's cold or snowy.
DO: Opt for indoor exercise!
Don't have a gym membership? Try a free online exercise video (there are TONS on YouTube) or head to a large indoor space that allows for 10 to 15 minutes of walking, such as a mall or large department store.
DON'T: Give up after one bad day.
DO: Wake up the next day, forgive yourself, and start over.
One bad day doesn't undo all of the progress you've made and won't prevent you from having success in the future. After a poor day (or two) of eating, don't give up or put off your goals until the next week. Instead, wake up the next day, show yourself some forgiveness, and make a plan for getting back on track.
This blog was written by Lindsey Recker, MS, RD, NIFS Registered Dietitian. To learn more about the NIFS bloggers, click here.