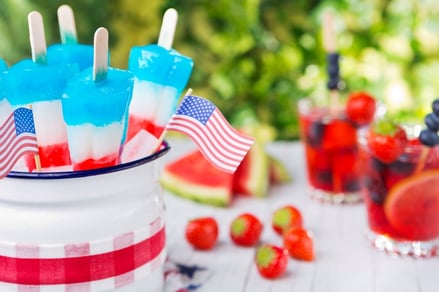 Here are some recipes for patriotic healthy eating. Bring one of these red, white, and blue creations to your Fourth of July holiday barbecue so that you will have the most patriotic dish to celebrate Independence Day!
Patriotic Veggie Platter
Arrange the following veggies in the shape of a flag with rows of red and white veggies on a large baking sheet. Place a yogurt-based dill or ranch dip in a blue bowl in the corner.
Red veggies: Red peppers, grape tomatoes, radishes
White veggies: Cucumbers, cauliflower
Independence Fruit Bowl
Toss strawberries, blueberries, starfruit, and watermelon in a bowl and sprinkle with unsweetened coconut flakes.
Red, White, and Blue Popsicles
1½ cups blueberries
1 cup raspberries
2 cups limeade
Divide blueberries and raspberries among freezer-pop molds. Pour limeade over the berries. Insert sticks and freeze until completely firm, about 6 hours. Makes 10 popsicles.
45 calories, 0g fat, 12g carbohydrates, 0g protein.
Fruity Fourth Quinoa Salad
¾ cup wild rice
½ cup quinoa (red if available)
¼ cup extra virgin olive oil
¼ cup raspberry vinegar
¼ tsp salt
¼ tsp pepper
1 cup halved, pitted fresh sweet cherries
1 cup blueberries
2 stalks celery, diced
¾ cup diced goat cheese
½ cup chopped pecans, toasted
Bring a large saucepan of water to a boil over high heat. Add wild rice and cook for 30 minutes. Add quinoa and cook until the rice and quinoa are tender, about 15 minutes more. Drain and rinse with cold water until cool to the touch; drain well.
Meanwhile, whisk oil, vinegar, salt, and pepper in a large bowl. Add the rice and quinoa, cherries, blueberries, celery, cheese, and pecans and toss to combine. Serve at room temperature or cold.
I hope you have a happy, healthy, and delicious Fourth of July!
This blog was written by Angie Mitchell, RD, Wellness Coordinator. To find out more about the NIFS bloggers, click here.