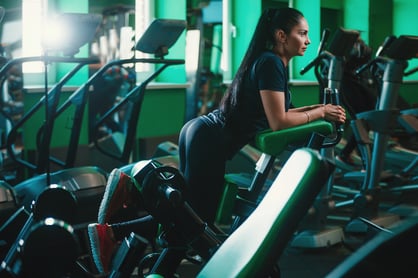 What is the most feared and most skipped gym day of the week? Nearly every person despises it, and few survive it. Yes, you guessed it. I am referring to the infamous "leg day." However, even if you can endure training your legs, how beneficial is it if you aren't training your hamstrings correctly, efficiently, and according to their full potential?
The hamstring is a large group of muscles (the biceps femoris, semitendinosus, and semimembranosus) located on the posterior side of the upper leg. They have two main responsibilities: flexion at the knee (pulling the ankle toward the glutes) and extension at the hips (pulling the ankle back toward the glute while maintaining a stiff leg). Therefore, the hamstring's main goal is to balance out the action of the large quad muscles on the front side of the leg, assisting the knee in stability.
In his blog Five Biggest Mistakes in Hamstring Development, the late Dr. Charles Poliquin, a remarkable pioneer in the field of fitness and bodybuilding, put into perspective just how important the hamstring muscles are. He recollects, "When I was a kid, hamstrings were called in bodybuilding magazines 'leg biceps.'"
Don't Neglect Posterior Leg Development
A standard leg day, as one could imagine, might include the leg press, back squat, leg extension, leg curl, and perhaps a lunge variation. If that's the case, there is simply not enough emphasis on posterior leg development. We naturally experience quad dominance simply because we are human and the majority of our daily movement requires being in a squat or quad-dominant position. This includes daily functions such as sitting and standing up out of a chair or car. The issues arise when the quadriceps overpower the action of the hamstrings throughout a certain range of motion or movement pattern. This can often happen when walking or running, but it occurs mostly when it comes time to execute cutting, jumping, and landing mechanics.
Simply put, athletes across most major sports have below-average hamstring development. This goes for every individual on the planet as well. It becomes a rather large issue and argument for some injuries that these athletes typically encounter.
Common Mistakes in Exercises for Hamstring Strength
If you are looking to improve hamstring strength, there are several exercises you could add to your workout program. However, I'm here to tell you that there are also a few common mistakes that could be holding you back from reaching your full potential.
Wrong timing: The first mistake is that you are most likely waiting to train the hamstring until the end of your leg workout. Ultimately, you should program hamstring-specific exercises.
Incomplete range of motion: Secondly, it is quite possible that you might not be completing the full range of motion when targeting this muscle group.
Not enough time under tension: The final common mistake is that when performing the movement pattern, you are not spending enough time under tension for that muscle to respond and grow. So a tip would be to use a tempo count where you control down and explode up each rep.
Do Those Leg Curls!
If you've learned anything from the last five minutes of reading this article, I hope it is the importance of training the posterior chain, especially the hamstring. Not only is it aesthetically appealing, but the with strong hamstrings, functionality and safety of young athletes should be at an all-time high. So jump in and do those leg curls!
This blog was written by Cara Hartman, Health Fitness Instructor. To find out more about the NIFS bloggers, click here.