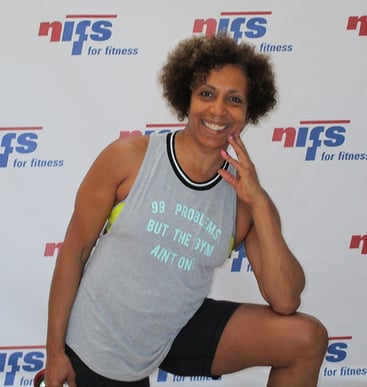 For the next installment of Crucial Conversations, a series where I have a chat with some very inspirational individuals and share it with all of you, I speak with a woman who needs no elaborate introduction. That's because not only is she pretty well known around these parts, but also because she wouldn't have it.
She is about the business of being fit and staying fit, no frills or fancy Instagram posts, just the business, and business is good. I am referring to longtime NIFS member Karen. I had the opportunity to ask Karen a few questions about being an "ageless warrior," what keeps her motivated, and why she continues to make NIFS her fitness home. Join me as we uncover some of the things that make this amazing individual tick!
Tony: Tell me a little about yourself.
Karen: I was born in Indianapolis in 1958 and attended Arlington High School. During my time at Arlington I ran track and field and played volleyball. I got married in 1983, and my son was born in 1984.

Tony: Besides being a high school athlete, have you always been generally healthy, fit, and active?
Karen: I used to do workout videos, when they were popular, with my young son. At the young age of 25 I was diagnosed with high blood pressure [hypertension] after the birth of my son. This was hard for me to process due to my healthy lifestyle and healthy nature. It was something that I would have to deal with for the rest of my life. I began to feel restless and my life was becoming too mundane. I hated only being able to go to work and go home every day. At this point in my life I began to become depressed. I felt that I was not accomplishing anything in my life.
Tony: How did you make the change to pull yourself out of the rut you were in?
Karen: My son was in school and doing after-school activities, and my husband was heavily involved in church, and as a firefighter he was gone from home at least two days a week. I wanted to have something of my own; I wanted a place to go to meet and talk to people, a place where I could better myself every time I was there. I felt that the only place it could be was the gym. During this time I had fallen even deeper into depression, but by April of 1994 that would all change. My husband began working out at NIFS, and I would ask him where he was going to work out and he stated NIFS. He eventually purchased a membership for me, and it was the greatest gift he ever gave me. I joined NIFS and I have been a member for 22 years.
Tony: So how did you get started?
Karen: I began to look into going to group fitness classes. Every time I became stronger and the classes became easier for me, so I would begin going to more advanced classes. I started with step, spinning, and boxing, but my true transformation began when I began taking HIT class and group training. I was in the first Slim It to Win It competition, and to compete with other members was very exciting. Each time I would look for the next challenge to accomplish. I felt my body getting stronger and my endurance was increasing; I was feeling better about myself and my life, and I was looking forward to each limit I could cross.
Tony: What has created the most change for you?
Karen: I would have to say that my change came with the challenges I faced to make myself better in the gym. I began noticing these changes when I was able to go farther and longer than I could before. I felt this process could never end; if I worked at it, I would be able to surpass all of my limits, and with each and every class I knew there would be a new challenge for me to defeat. I've been able to make new friends, and for me exercising is a way of life. I am the result of hard work, I am in great shape for someone who is 57 years old, and I feel that my medical issues are very minor due to the effort and time that I have put in at NIFS. It has also allowed me to deal with stress, and it gives me a generally positive outlook on life. I would like to thank all of the trainers who have helped me along the way with my transformation, especially Tony Maloney.
***
I had the pleasure of meeting this amazing lady the first day I arrived here at NIFS eight years ago, and have had the continued honor to work with her in so many different capacities. From BOSU class, HIT, Slim It to Win It, and group training, Karen has seen and done it all, and has not just done it but done it well! She took on a nickname I gave her a few years back: "Grumpy"; but those who know her know that she is far from it. But she is focused, and when there is work to be done, she is all business.
This blog was written by Tony Maloney, ACSM Certified Exercise Physiologist and Fitness Center Manager. To find out more about the NIFS bloggers, click here.