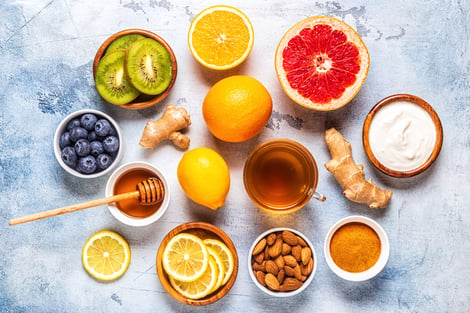 As the weather turns colder and we spend more time indoors, viruses will become more active among the population. Healthy eating can help you boost your immunity. Here are five of the top choices for fighting colds and flu with food.
Citrus Fruits
Oranges, clementines, lemons, and grapefruits are all excellent sources of vitamin C, an antioxidant that helps protect immune cells from oxidative stress during the early stages of an immune response. Research has shown that a deficiency of vitamin C can result in impaired immunity and a greater susceptibility to infection.
Fatty Fish
Fatty fish, such as sockeye salmon and rainbow trout, are often great sources of Vitamin D, a nutrient that plays a role in innate and adaptive immune responses. One study found that vitamin D supplementation resulted in a 42% decrease in the incidence of influenza infection, while another study revealed individuals with lower serum vitamin D levels were more likely to self-report recent upper respiratory tract infections when compared to individuals with sufficient vitamin D levels.
Nuts, Seeds, and Plant-based Oils
Nuts, seeds, and plant-based oils are high in vitamin E, an antioxidant that has been shown to enhance immune response and confer protection against several infectious diseases. These foods are also high in omega-3 fatty acids, which may help strengthen your immune cells, although more research is still needed to fully support these claims.
Sweet Potatoes
Sweet potatoes and other red or orange fruits and vegetables are typically high in vitamin A, which plays a crucial role in the maintenance of the human immune system. Vitamin A supplementation has been shown to have a therapeutic effect on diseases transmitted through the respiratory tract, such as pneumonia. For reference, one sweet potato contains 156% of your daily vitamin A requirements.
Oysters
Three ounces of raw oysters provides 291% of your daily zinc needs. Zinc helps the immune system function properly and also has wound-healing properties. Studies have shown that a zinc deficiency is associated with severe immune dysfunction.
***
Eating the preceding types of foods can help you strengthen your immune system against the annual winter onslaught of colds and flu. If you'd like more help planning a healthy diet, schedule a NIFS nutrition coaching session.
This blog was written by Lindsey Recker, MS, RD, NIFS Registered Dietitian. To learn more about the NIFS bloggers, click here.