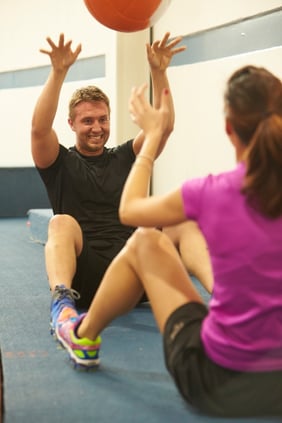 Love to workout and need a date idea for Valentine's Day? We have just the workout for you!
AMRAP in 30 seconds followed by a 1-minute rest after each exercise
Equipment: 2 "heavy" dumbbells, 2 "light" dumbbells, and a yoga mat
Total Time: ~ 20 min
Circuit #1
Dumbbell Thruster (squat with an overhead press)

Glute Bridge (option for dumbbell on hips)

Russian Twist (option to add dumbbell)

Alternating Side Lunge with Forward Shoulder Raise
Repeat circuit twice
Circuit #2
Renegade Row (push-up on dumbbells with alternating single-arm row)

Dumbbell Floor Press

Burpee

Forward Lunge (option to add dumbbell)
Repeat circuit twice
Spread the love and share this workout with your Valentine!
This blog was written by Payton Gross, Group Fitness Coordinator and Barre Above Instructor. Learn more about the NIFS bloggers here.