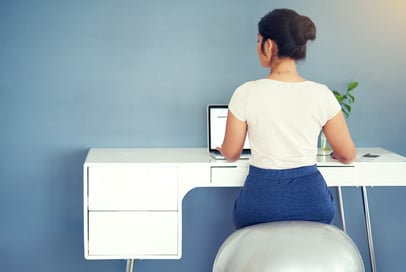 Whether you are sitting, standing, walking, running, or exercising, having good posture plays an immense role in not only how you physically present yourself, but how your body develops over time. Just like most habits, posture has both good and bad sides, each with distinct effects on your body. Focusing on ways to get the most out of your posture can ultimately give you not only a better workout, but also improved health for many years to come.
Benefits of Good Posture
When we talk about the benefits of improved posture, you might first think about how you look in a mirror or in front of a camera (which is also important). But there are many other physical attributes that can be affected which might not come to mind at first. This includes immediate impact areas such as low back pain relief and less tension in the shoulders and upper back. Further, long exposure issues such as joint wear and tear and poor blood circulation can be linked to bad posture. Other than physical effects, there are quite a few emotional health issues that come to light and are associated with bad posture, including self image and depression as well as relaxation and rest.
An Easy Posture Test
Getting back to the fitness aspect of good posture, I can present a simple demonstration. First I would like for you to sit in a chair, slouching as if no one was watching. Now, sit up tall with good posture. Obviously it takes more effort to sit with good posture, including core muscles. If you apply this concept to your exercises, you might find that not only will your form improve (along with your overall safety), but you will be recruiting more muscle (and albeit small and more calorie burning).
Develop Your Posture
There are things you can do in your day-to-day life that will help you develop better posture habits. Personal habits such as sitting taller, standing taller, and exercising with good form make having good posture much easier. Other things to consider include talking to an ergonomic specialist who can help you set up your workstation to better suit your body's needs, and talking to a fitness specialist to help with exercise form and technique.
Even though it's a lot easier to be lazy and not care about your posture, like other aspects of your physical wellness, caring for yourself and developing good posture habits will have long-lasting benefits for your body at a very low cost, so just do it! You will be making your grandma happy in the process.
If you feel as though your posture is getting in the way of your goals and possibly worse, your health, please take time to address the issue today. Talk to a fitness professional about safer, more effective exercises at the gym focusing on form and posture. At work, you can contact your HR rep to see whether an ergonomic specialist is available to help set up your workstation. You are not alone. Let NIFS help you.
Until next time, muscleheads rejoice and evolve!
This blog was written by Thomas Livengood, NIFS Health Fitness Instructor and Personal Trainer. To learn more about the NIFS bloggers, click here.