Whether you are 18 or 80, man or woman, looking to lose weight or simply maintain, step aerobics just might be the perfect addition to your fitness program! Have you ever considered taking a step class? Perhaps you have found yourself thinking, "I'm not coordinated enough," or "Step is too intense for me (or not intense enough"). Well, give me two minutes to change your mind.
Step Burns Calories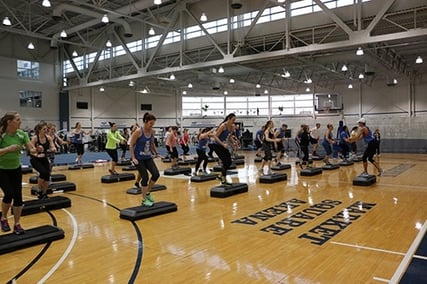 The bottom line is, stepping up and down off a raised platform burns calories. In fact, it burns A LOT of calories. According to Self Magazine (July 2012, page 101), stepping up and down off a raised platform burns more calories than doing jumping jacks, split lunges, power squats, or speed skating for the same length of time. Great way to lose weight? YES! Great way to maintain weight? YOU BET!
Anyone Can Do Step
Maybe you are thinking that you lack the coordination required to do step. But the reality of it is, if you can march in place, you can do step. The basic step is just that: basic. Up, up, down, down. Of course that move would get pretty boring pretty quickly, so we add music, rhythm, and variations on that basic move. While it helps to have a little rhythm (can you clap your hands to the beat of a song?), anyone can step. It may take a few classes to really get the hang of it, but it is quite do-able, and FUN! Don't be intimidated!
There is a first time for everything. At some point, every single person in the class, including the instructor, attended their very first step class. I am not gonna lie, you probably won't pick up every single thing the first class you take. But let's face it: What would be the fun of mastering it in the first hour? Half the fun is seeing yourself improve on the step, seeing your cardiovascular fitness level improve, and becoming more efficient overall (doing more work with less effort). Step will get you there!
You Can Adjust the Intensity Level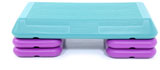 You may be thinking that step would be too hard or too intense for you. While step is designed to be a challenging cardio workout, the intensity level can be adjusted in a number of ways to meet the needs of each participant. The height of the platform is not uniform; with use of individual risers at each end, the platform can be set as low as just a few inches off the floor (or as high as 8 to 12 inches).
Another easy adjustment, which your instructor will show you, is to limit your range of movement with each step. As you become more comfortable with the format, you will be able to add intensity by increasing range of motion with the steps, and by adding arm movements to further increase your heart rate. Because of this, the challenge never ends. There is no plateau.
Step Can Be a Challenging Cardio Workout
On the flip side, maybe you are thinking step is not intense enough. Perhaps you are thinking that only girls take step, or that you are too fit to benefit from it. Regardless of your fitness level, step can be a very challenging cardiovascular workout. It is a well-known fact that the U.S. military utilizes step aerobics to improve our troops' agility, coordination, and endurance. If it's tough enough for our soldiers, then it's tough enough for me! In addition to step, I also teach Insanity, total body conditioning, and kickboxing classes. Step meets or exceeds these other formats in intensity level and calories burned per hour.
Step Is Great for Group Fitness
Step is the perfect group fitness exercise because it accommodates all fitness levels. And if you haven't tried group fitness, well that's a whole other conversation. But in short, try it! The camaraderie and accountability among the participants, the music, and the FUN factor will have
you hooked!
So, are you ready to take your fitness regimen to the next STEP? Click her for a free class pass to NIFS!
This blog was written by Rachel Pfeiffer, ACE and AFAA Certified Group Fitness Instructor Insanity Certified Instructor; Proud NIFS Step Instructor since 1999