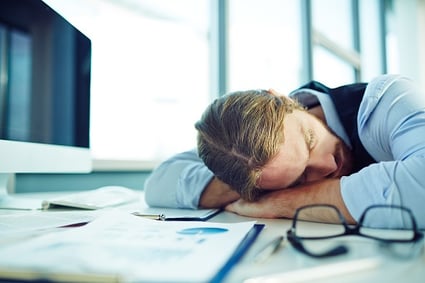 Can you remember preschool when the teacher would turn down the lights and break out the cots? Nap time! You might not have had that exact experience, but as humans we are prone to napping. In our go-go-go life, time is money. To society, sleeping during the day is seen as a luxury that we cannot provide ourselves, and is usually thought of as a sign of laziness.
Unfortunately, napping doesn't pay the bills. Even so, many physicians as well as wellness-oriented CEOs have championed the idea that a little afternoon snooze is actually beneficial, and can not only provide enough rest to fight off fatigue, but improves your alertness, improves motor learning skills, boosts memory, and enhances creativity (Soong, 2010). Can napping actually make you a better employee at work, give you better results in the gym, or enable you to have a better social life with your family and friends? Yes, in fact, it can! Here is a closer look at napping and its benefits.
What Is the Optimal Nap Length?
First, I'd like to break down naps into two parts. The duration of nap that you are taking will be specific to you, but there is information that gives a good indication that for optimal power naps, 10 to 20 minutes of sleep will provide the best results. Longer naps can make you groggy; this is known as sleep inertia (Dvorsky, 2013). The longer naps, such as a 60- to 90-minute siesta, can put you in a state of REM (otherwise known as our dream state). There are some links to cognitive function associated with longer naps, but the time frame doesn't always work with our hectic schedules.
When Is the Best Time to Nap?
The second part deals with necessity. Our naps can be planned, in which you know you are going to need extra rest for a long night, so you take a nap. Another would be an emergency nap, where you take a nap because you otherwise would have put yourself in a dangerous situation (think about getting sleepy behind the wheel and then deciding it's best to pull over at a rest stop for a nap). Then there is the always popular appetitive napping—in other words, taking a nap for the sheer enjoyment of it (Dvorsky, 2013).
What Are the Benefits?
Your health and wellness can benefit from a simple, short nap. At the right length, your nap can provide much-needed alertness, mental capacity, creativity, energy, reduced stress (in turn reducing the risks of heart disease), and more effective learning abilities for children. With all these positives attached to something that can be done quite simply, it's hard to understand why anyone would not take more naps. For businesses, your employees would be better workers with higher productivity; for teachers, your students would have a better chance of learning; and for you, your overall well-being would be improved. Don't wait; take a nap TODAY!
This blog was written by Thomas Livengood, NIFS Health Fitness Instructor and Personal Trainer. To read more about the other NIFS bloggers, click here.