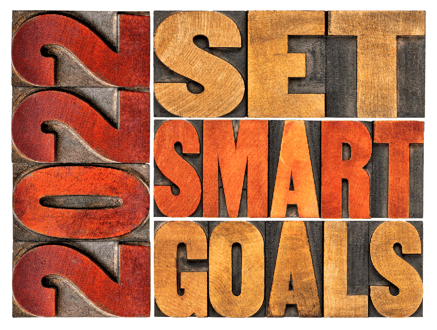 It's that time of year again when most evaluate their current year and set their sights on the upcoming one. Goals and plans of being more successful, losing weight, being more fit, and countless other hopes and dreams will be on the minds of so many individuals hoping for change and happiness. And although goal setting is not for everyone (nor does it have to be), for those who take part in this annual renewal and planning effort many fall victim to a huge mistake that will inevitably leave them in the same spot a year from now.
The biggest mistake most people make when developing their goals for the New Year is the failure to define the behavior that is needed to accomplish that given goal. We are great at defining what are considered outcome goals, but we make the unfortunate mistake of stopping there and not defining behavioral goals. What is the difference between the two? Let's take a look and define the two, understand the need for both, and learn some tips to make your New Year's resolutions stick.
SMART Goals
You might have heard about using the acronym SMART when writing a goal. But just in case you haven't, here is SMART defined. A well-written goal should be
Specific
Measurable
Attainable
Realistic
Timely
I will add another term to this: a goal should also be meaningful. The particular goal should have some significance to you and your life. This is an important aspect to consider when deciding where and how to spend your time and effort.
Now that you're all caught up, I'll define both outcome and behavioral goals.
Outcome Goals
An outcome goal is just that: it is the outcome you want to obtain in a certain time frame. These are defined usually by numbers such as a weight goal, or specific levels to be reached in your profession, or even starting a retirement fund. These all have specific end products to be reached, and unfortunately most people stop right here.
Examples:
I will lose 20 pounds by April 1.

I will make $75,000 this year.
Behavioral Goals
A behavioral goal is a series of actions that will eventually lead you to the achievement of your outcome goal. This plan of attack to get to the outcome you defined is essential to see the results you hope to obtain. The experts at Precision Nutrition consider behavior goals to be goals that you have control over. You ultimately do not have control of your body's cells or how fast they metabolize fat. Nor do you have complete control over whether your boss pays you the $75,000 you feel you have earned. You do have control over the actions that can get you to that outcome you have defined. Adopting behaviors that lead the way toward your goal is key in obtaining the results you are after.
Examples (expanding on the outcome goals listed above):
I will lose 20 pounds by April 1.
I will add more vegetables and protein sources to each meal.
I will eat slowly and mindfully at each meal.
My dining out of the house will be limited to one time per week.
I will limit processed foods and choose mainly whole-food options for every meal.
I will exercise 5 times a week for 60 minutes each session, mixing both resistance and aerobic-based movements.
I will make $75,000 this year.
I will acquire a certification or more education in my field.
I will spend more time on big tasks or projects.
I will organize my day to maximize productivity by defining a daily schedule and sticking to it.
I will surround myself with goal-orientated, like-minded individuals every day.
I will ask big questions.
Bonus Tips For Success This Year
I think the biggest step you can take to success in this upcoming year is taking it one step at a time! For example, so many of us want to overhaul our entire diet to get to that goal of losing 20 pounds by April 1, only to fall short because we could not sustain the behavior, or the sheer amount of change at one time was just too much. This could lead to failure, which could lead to a backslide, putting us right back where we were to begin the year.
Implement one behavior for a few weeks, and once you have success with that one behavior, add another one, but not until you are successful with the first one. Create a snowball effect of behaviors and you increase the chance of success in the new year.
Getting started is usually the hardest part. Let us help, sign up for a free Fitness Assessment today!
This blog was written by Tony Maloney, ACSM Certified Exercise Physiologist and Fitness Center Manager. To find out more about the NIFS bloggers, click here.