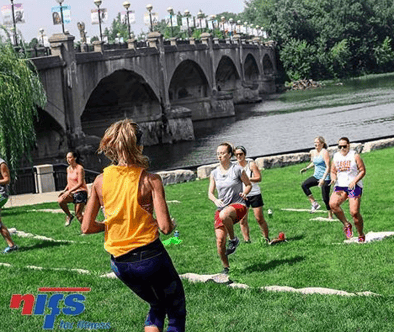 Tabata is currently one of the trendiest workouts, due to the amazing results people are attaining. It's a high-intensity interval training (HIIT) format that consists of 8 rounds of an exercise performed for 20 seconds with a 10-second rest period.
High-intensity workouts bring the heart rate up and down through intervals. During the 20 seconds of a Tabata set, an exercise is performed at all-out effort, bringing the heart rate up to a peak followed by a 10-second recovery. The total time to complete one round is 4 minutes, but those 4 minutes will push your body to the max if done properly, leading to an increase in metabolism and fat burn while maintaining lean muscle tissue.
What Exercises Are Performed During the 20-second Push?
Body weight or light resistance training exercises are performed during the 20 seconds of work. This could include high knees, jumping jacks, plank variations, or exercises that use free-weight equipment like medicine balls, resistance bands, dumbbells, kettlebells, and more. The more variety and muscle groups engaged during a Tabata, the more benefits you will gain.
When Does NIFS Offer Tabata?
Through the summer months (May–August), Tabata can be found on the group fitness schedule multiple times through the week and is currently offered outdoors (weather permitting) on Tuesdays and Thursdays from 12–12:30.
The Benefits of Outdoor Exercise
When taking Tabata outdoors, you will not just benefit from the HIIT-format class, but also will experience the amazing benefits of working out outside. In a study done by ACE Fitness, those who exercised outdoors experienced more energy, decreased anxiety and depression, and a harder workout due to surface difference and wind resistance. Not only that, working out in groups outdoors is a great way to engage with your community and have accountability buddies to support you.
This blog was written by Brittany Ignas, BS in Kinesiology, 200 Hour Yoga Alliance Certified, Stott Pilates Certified, and Fitness Coordinator. To find out more about the NIFS bloggers, click here.