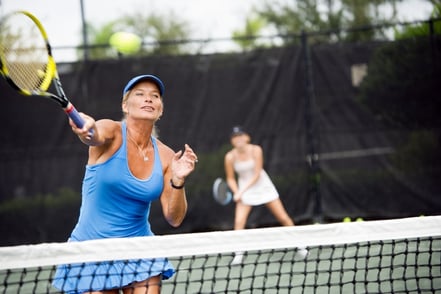 We exercise many ways every day, many times unknowingly. Sometimes this is because we actually enjoy doing it and it doesn't seem like work to us. As the old saying goes, "time flies when you're having fun." One requirement for a lifetime activity, though, is that it most often needs to be something you can do from the time you stop wearing diapers until the time you start wearing diapers again. The ideas I like to explore can include fitness, but also non-exercise–based activities.
Is Tackle Football a Lifetime Sport?
Rarely, if ever, do you hear about a 60-plus person excelling at tackle football, yet it is still one of the most celebrated and promoted sports in the world. That sport in particular has plenty of fitness-related benefits, ranging from strength training to teamwork; but on the flip side, not many people play tackle football outside of peewee football after they graduate from high school.
You might argue that there are people who play in college and professionally, or that there are adult flag football leagues. But the reality is that the percentage of participation is relatively low. This poses an issue, so you need to strive for activities that provide exercise for the long haul.
Some Appropriate Sports and Activities
Many sports can be considered lifetime activities. These include tennis (or any variation: badminton, table tennis, racquetball, and so on), golf, and swimming. 5K races and mini-marathons are also in this category and are well attended by all age groups, with many older competitors able to complete and compete among others in their age group.
The question may arise, "What if I don't care for sports? What am I going to do?" You might already have it covered if you participate in any of these activities:
Gardening (bending, squatting, etc.)
Walking pets (both can get benefits)
Playing with the kids or grandkids (bike riding or sharing a nice afternoon playing toss)
There are many ways to track the estimated calories burned for these types of exercises through the www.myfitnesspal.com website. Take one weekend and track every step you take with a pedometer and note all activity. You might surprise yourself with how much you actually do.
Help Kids Get More Active
Circling back to the original idea of pushing lifetime activities, it only makes sense to start early with children. Educate youth about health and fitness and why it's important to give attention to lifetime activities and planning for a healthy and full life of fitness.
There Is No Age Limit on Healthy Living
Beyond the kids, you're never too old to aspire to being healthier. Meeting with a fitness coach can provide a spark: they can help you assess where you are starting, what your strengths are, and possible avenues for participation you might never have known existed.
Finally, if you are looking outside of fitness and sports, don't search too hard because you might have already found something that you can benefit from without realizing it. As personal trainer, author, and entrepreneur Martin Rooney says, "Doing something is better than doing nothing." You can take it one day at a time and tell yourself that doing something is better than nothing at all. If you believe you can become a better you every day, one day you will.
This blog was written by Thomas Livengood, NIFS Health Fitness Instructor and Personal Trainer. To read more about the other NIFS bloggers, click here.