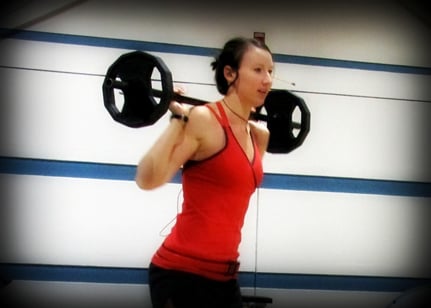 Group Fitness is one of the most popular attractions here at NIFS, with more than 60 different classes a month taught by highly qualified instructors. If you've never tried group fitness or you're not sure what it's all about, this blog is for you.
There's a ton of variety in our classes, which range from calming yoga to fast-paced Cardio Hip Hop—and everything in between. Group Fitness instructor Tasha Nichols has experience with multiple classes and is here to help you get the inside scoop on Group Fitness and how to get involved.
Q&A with Tasha
Tasha has been involved with NIFS for 10 years as an instructor, and previously was the Group Fitness Coordinator. She has spent much of her career expanding LES MILLS nationally when she's not instructing classes. Not only is she an incredible instructor, but she has also claimed the title of World Kettlebell Champion.
Q: What classes do you teach? Describe your favorite.
A: I typically teach LES MILLS BODYPUMP, BODYCOMBAT, and BODYJAM. I can't possibly pick a favorite! I love each format for a different reason. I choose to teach the LES MILLS formats because they are my favorite class styles of any group workout I've done. The combination of music and movement is addicting, and the science behind them as well as the preparation involved in each release makes me trust the quality of the program I'm delivering. This trust allows me to focus on delivering the best experience to the participants, whether it's lifting, punching and kicking, or dancing.
Q: How long have you been teaching group fitness?
A: I just passed my 10-year mark in November! I actually taught my very first class at NIFS back in the day. It was ironically the 6am BODYPUMP class that I teach now. Even after leaving Indy for a few years, it still has some of the same people!
Q: How did you get involved with group fitness?
A: Teaching group fitness was something I always wanted to do. My grandma was a group fitness instructor when aerobics was just becoming a thing, so I grew up hearing lots of stories about her classes. My sister started teaching BODYPUMP when I was in college and I loved her class, so I decided to start by becoming certified in that.
Q: What's your favorite thing (and least favorite thing) about group fitness?
A: Favorite thing: the energy of a group is very powerful, and the combination of music and movement. There's a unique ability to get lost in the music that feels incredible.
Least favorite thing: I wish we'd get a little more of a chance to work one on one with everyone, to be able to tweak movements and coach corrective exercises. But, that's what the awesome trainer team is for at NIFS.
Q: In what ways have your participants benefitted from class?
A: 1: Results 2: I like to think they find a little more joy, fun, and freedom in movement and in life.
Q: What advice would you give to someone who has never taken a group fitness class but wants to get involved?
A: Be brave and talk to the instructor and the people around you. Let them know you are new and don't be afraid to take options! It's totally okay (and sometimes necessary) to stay for just part of the class, especially when you're new. We call it the Smart Start option in LES MILLS classes. We've all been new once; we get it! As mentioned above, I've been doing this for over 10 years, and after recently having two kids in two years, I've found myself taking the Smart Start option quite a bit. It's all part of the journey, and there are no judgments in my class; I've got your back.
Q: Is there a certain skill set or prerequisite to get started in a class?
A: Nope! Just get there a little early (particularly for BODYPUMP) so I can help you get set up.
Q: How do you stay current with your education?
A: Three main ways:
I carry Personal Training and Group Fitness certifications from ACE and AFAA, so I stay up-to-date on their research as well as LES MILLS.
I follow many of the classic strength and conditioning coaches (Mike Boyle, Dan John, etc.) and a few physical therapists who work in the strength and conditioning field.
I also work to gain personal experience in my fields—I trained Brazilian Jiu Jitsu for 2+ years for BODYCOMBAT and have competed (and won) internationally for the kettlebell sport. (#worldchamp #nobigdeal)
Q: Do you teach anywhere other than NIFS? Can you compare them?
A: I don't teach anywhere else, but I do work for LES MILLS on the business side, which gives me a unique perspective. I run trainings for BODYPUMP and BODYCOMBAT nationally and oversee the development of the assessment criteria for new instructors across all programs globally, so I get to see instructors in all types of gyms. But at the end of the day, NIFS is still my favorite place to train, and I think the participants who come to my classes are the best in the world. You all are my favorites.
Group Fitness at NIFS
Our Group Fitness Instructors at NIFS are dedicated to helping clients reach their fullest potential by ensuring they have all the tools necessary to succeed. Tasha is just one out of several amazing instructors who is here to help you reach your goals. Their drive to help our clients is what has made Group Fitness the most popular program at NIFS.
This blog was written by Hannah Peters, BS, CPT, Health Fitness Instructor. To learn more about the NIFS bloggers, click here.