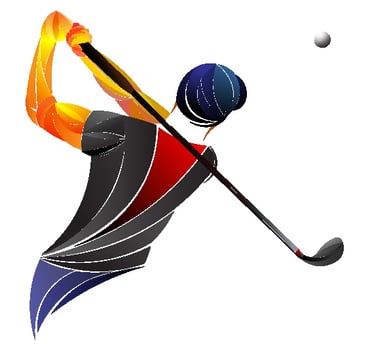 In my first Caddy Smack blog, I wrote to inform NIFS members of the importance of rotational power as it relates to the golf swing, and exercises that can help improve it. Caddy Smack Deuce was a new and improved variation that took a look at different areas (including rotational power) that can help take you take your game to the next level. I also tried to hit a golf ball over the White River Bridge, which was an epic failure (must have been the winter rust on my swing).
Since that first blog was published, I have met probably close to 100 NIFS members, guests, and employees who share a similar interest and passion for a sport that I love. I've been out to play with a few members over the last year and try to play with my coworkers as much as possible. When I picked up the game about five years ago after college, I thought it would simply be something that I would do as a hobby to take the place of the hours spent on the football field and in the gym. Little did I know that the "game" would become a moderate obsession and a constant battle with myself to improve on the previous week's score. And as I meet more and more individuals here at NIFS and at different courses, I realize that the obsession that I have now does not seem like it will be going away anytime soon.
No Two Golfers Are the Same
The most obvious observation that I have made from these years of being a strength and conditioning coach and watching individuals' golf swing characteristics is this: no one is the same. There may be a few similar swings that you see on the PGA Tour or among groups of golfing friends, but everyone is going to get the club from the ground, to the back swing, to the down swing, to the ball in a slightly different manner. Most of the time, the person has molded their swing to what their body allows them to do.
My second observation is what the third installment of Caddy Smack is going to be based off of. And that is the idea that on any given golf course on any given day, there are no guarantees on what type of players will be present. Golfers can be young or older in age, tall or short, skinny or bigger, mobile or immobile (in the hips, shoulders, etc.)—characteristic combinations are endless!
Critical Strength and Power Areas
My goal for this blog is to bridge off of Caddy Smack Deuce but keep strength and power at the forefront. Below you will find four areas of strength and power that I believe are critical to the golf swing. Each area has three exercises (1 = beginner, 2 = moderate, 3 = advanced) to fit your current golf and/or fitness situation.
Vertical Power
Rotational Power
Hinge Strength
Pulling Strength
If you are not doing any of these movements (or similar ones), incorporate one from each category into one of your workout days during the week. Pick and choose between the degrees of difficulty as you become more familiar with the movements. Of course, all the exercises can be modified in different ways as well, so get creative. Remember that not every golf swing is the same, which applies to the gym as well. Find the right combination for where you are now and build over the next few months as you prepare to have the best golfing season of your life!
Check out my next video blog, which will cover a warmup that you will be able to do at the course right before hitting the practice range or teeing off. I will be filming at the world-renowned NIFS National Golf Course located just outside our back patio!
This blog was written by Alex Soller, Health Fitness Instructor and Athletic Performance Coach. Click here for more information about the NIFS bloggers.