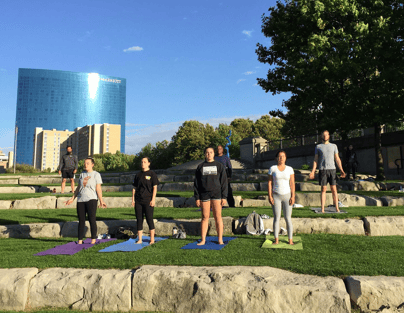 Do you want to be part of a community and hold yourself accountable while working out? Group fitness classes just might have what you are looking for!
Group fitness has been around for decades. Many probably remember classes such as Jazzercise and aerobics that were common in the 1970s and '80s, followed by Tae Bo and step aerobics in the '90s. Not much has changed in the realm of group fitness except the current trending workouts. Today, group fitness participants enjoy Zumba, Barre, CrossFit, as well as Pilates, yoga, and Boot Camp formats. Nevertheless, all group fitness classes have essentially the same benefits.
Benefits of Group Fitness
What are some of the benefits of group fitness? Group fitness…
teaches you motivation and to push others to be their best

adds variety to your workout

supplies you with people to work out with

leads to positive competition
As the Group Fitness Coordinator here at NIFS, I have witnessed firsthand throughout my years of experience that group fitness communities are unlike any other. I have developed lifelong friendships with those who have pushed me and held me accountable. As an instructor, there is no better feeling than watching others achieve their fitness goals. I look forward to my "regulars" in my classes, and often over time they feel like family. The community of group fitness is not just people who work out together, but also individuals you enjoy spending time with as a de-stressor from daily life.
Group Fitness Is Where You Need to Be
If you are looking for a group of likeminded individuals who enjoy setting goals, exceeding expectations, and using each other as motivation to complete challenges, group fitness classes are exactly where you need to be. I look forward to seeing you participate in our group fitness offerings here at NIFS!
Try a Class for Free!

There are lots of options when it comes to group fitness classes. Come try one of our classes for free!
This blog was written by Payton Gross, NIFS Group Fitness Coordinator. To learn more about the NIFS bloggers, click here.