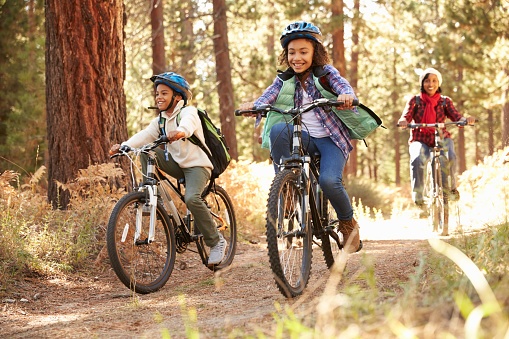 In Indiana, we experience all four seasons (sometimes all in the same day!). Your outdoor training and exercise regimen can be effected significantly by the season. While summer can be a fun, exciting time, exercising outdoors can be daunting and somewhat risky. While making sure you have plenty of water and sunscreen is important, a workout could just as easily be sabotaged by a trip for ice cream. Conversely, winter has its own set of challenges, including bundling up and having the proper footwear, as well as thinking about running out of daylight.
Luckily, for us Hoosiers, there is a happy medium: fall. Fall in Indiana provides us not only the ideal temperatures for outdoor exercise, but also the right atmosphere to get a jump on the busy holiday seasons. Here we discuss what you can do to make your autumn fitness lifestyle as productive as possible.
Family Exercise
Enjoying time with your dear ones can be challenging in the summer as well as winter. The kids are going to the pool in the summer, and there are so many family get-togethers in the winter, so it's hard to relax for one weekend. There are many weeks in fall that allow for family time and exercise. Getting out in the cooler weather helps everyone become more comfortable with the environment. In turn, exercise comes more easily.
If you want your family to be more productive, raking leaves and yard work not only helps get your yard looking nice, but also gives you exercise and the self satisfaction of a job well done. Branching out from there, neighborhood cleanups tend to happen this time of year as well. You may reach out to your local neighborhood leaders to see when the next opportunity comes up.
For the Children
During the summer months, children have a lot of time to get outdoors and play. This form of exercise is a great way to develop physically and socially. With fall comes the return of school. Although many schools have recess and physical education classes, there seems to be a lack of lifetime physical fitness activities. There also seems to be an abundance of sitting. To counteract childhood obesity, getting your children the physical fitness they deserve could help keep their bodies strong and reduce the risk of diabetes.
What Can You Do?
Easy enough: GO OUTSIDE! Enjoy the foliage. Fall in Indiana produces postcard-quality beauty and charm. Although the weather isn't bad, make sure to layer your clothing so that you can be more comfortable.
When it comes to nutrition, make sure to discipline your sweet tooth (for example, against Halloween candy) and tame your urges to try the Pumpkin Spice Everything. Boot camps are also a popular class in this season. Any group activities are a bonus because you will not only get great fitness but also meet new, like-minded individuals who can help you find a support network.
Your Challenge
I encourage you to step out this season. Get some exercise with your family and venture to a part of the state you might have never visited. There are dozens of state parks and recreational areas waiting to be explored. You can get a head start on the holiday season, and hopefully when your New Year's resolution is on the front burner, you will be ready to go!
For more ideas for training this time of year, see a NIFS Health Fitness Specialist, who can design workout plans and discuss goals so that you are getting the right exercises to reach your personal bests. Let's go!
This blog was written by Thomas Livengood, Health Fitness Instructor and Personal Trainer. To read more about the NIFS bloggers, click here.