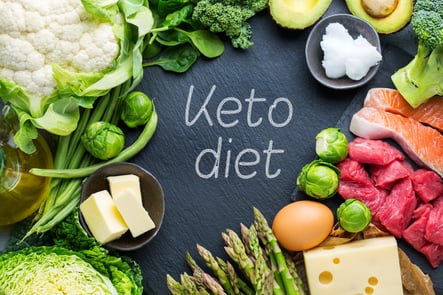 The "keto diet," which is short for ketogenic diet, is a low-carbohydrate, high-fat diet that is similar to the Atkins Diet, and is one of today's most popular diets. The goal of a low-carb diet is to reduce carbohydrates and replace them with fat. This puts your body into a state of ketosis. When this occurs, your body breaks down fat into ketones for energy. The main idea here is that by starving the body of carbohydrates, you will force it to break down fats, which proponents of the diet suggest results in the best weight-loss results.
There are different versions of the keto diet. Some allow for added carbs around workouts, or some keto days followed by high-carb days, high-protein keto diets, and a standard keto diet of 75% fat, 20% protein, and 5% carbs. It usually includes meat, eggs, cheese, milk, nuts and seeds, oils and fats (like avocado, coconut oil, ghee, butter, and olive oil), vegetables (limited to dark leafy greens and mushrooms, and fruit (berries in moderation). Generally the diet does not include starchy veggies (potato/sweet potato, pumpkin, legumes, etc.), grains (oats, rice, quinoa, corn), or fruits (banana, mango, pineapple, apples, oranges).
Why Is This Diet So Popular?
Keto diets have become increasingly popular in the health-conscious community for a few reasons:
Weight loss: How many fad diets have you tried over the past few years that promise hitting your weight-loss goals in just a few weeks or even less than 6 months? Often weight loss is "water weight": as stored carbohydrates are utilized, water is lost.
Reinforcement of getting to eat what we thought to be "bad" foods.
No calorie counting—however, many of us create a calorie deficit that results in weight loss without thinking about it when we are no longer eating favorites like pizza, donuts, cookies, chips, etc.
How Healthy Is the Keto Diet?
As a registered dietitian, my goal in nutrition counseling is to help people establish lifelong sustainable habits, and the research points us in a different direction than keto. But first, kudos to anyone who is trying to modify their lifestyle with any diet. Low-carb diets may be useful in the short term for weight loss, but in the long term (longer than a year), there are no documented benefits.
Take a look at the following research on some other healthier eating patterns.
Plant-Based Diets
A study of the eating patterns of more than 15,400 adults in the U.S. and another 432,000 people around the world found that restricted-carbohydrate levels replaced or supplemented by animal-based protein and fat sources could lead to a higher risk of premature death. The study suggests that plant-derived protein and fat such as vegetables, nuts, peanut butter, and whole-grain breads were associated with lower mortality.
Low-Carb Diets
A second study examined the relationship among low-carb diets, heart disease, cancer, and all-cause death in 24,825 people. Compared to those in the high-carbohydrate group, those who ate the lowest carbohydrates had a 32% higher risk of all-cause death over 6 years. Risk of death from heart disease and cancer increased by 51% and 35%, respectively.
The Secrets of the Blue Zones: Living to 100
What do Ikaria, Greece; Okinawa, Japan; Ogliastra Region, Sardinia; Loma Linda, California; and Nicoya Peninsula, Costa Rica all have in common? These places are called Blue Zones. Blue Zones are isolated areas of the world where researchers have found populations that contain a surprisingly high percentage of centenarians—people who live to age 100+. Not only are these individuals living longer, but they are doing so in phenomenal health without problems like heart disease, obesity, cancer, or diabetes. Here's what researchers have found when it comes to their diet:
Stop eating when your stomach is 80% full to avoid weight gain.
Eat the smallest meal of the day in the late afternoon or evening.
Eat mostly plants, especially beans. Eat meat rarely, in small portions of 3 to 4 ounces. Blue Zoners eat portions this size just five times a month, on average.
Alcohol in moderation (no more than 1-2 glasses of wine per night).
The Conclusion: High-Fiber, Low-Calorie Diets Are Best
There is evidence that ketogenic diets help with conditions like Parkinson's disease, Alzheimer's disease, and epilepsy, but for the majority of the population, I encourage you to eat a well-balanced diet that emphasizes plant foods. Think of cheese, butter, and meat as garnishes to your meal and shift your plate from a high-calorie, high-saturated-fat meal to a high-fiber, lower-calorie, and nutrient-powerhouse meal!
This blog was written by Lindsey Hehman, MA, RD, CD. To learn more about the NIFS bloggers, click here.