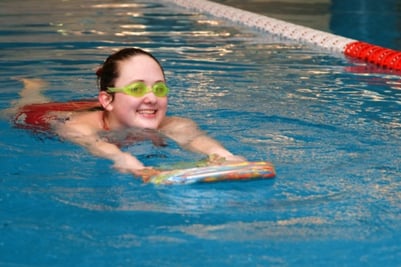 Salutations NIFS friends! Our facility has a partnership that allows members access to lap swimming at the IU Natatorium. This amenity is something that has been on many bucket lists for some time, and now that we can say we have a pool, it's time to get in there and take advantage of it. While the benefits of swimming are undeniable, there are some great points we can discuss for people (like me) who have found it a little more challenging to float. This blog will bring to light some interesting facts and some general ideas that can make your next swim (or float) more efficient, effective, and fun.
The Effects of Body Fat on Swimming
A big question that many new swimmers have is, "Why do I sink and you float?" The answer can be correlated to your body density and body fat percentage. Because fat is less dense than water, it floats. If you are an individual who carries a higher percentage of body fat, you are more likely to stay above the water surface. Competitive swimmers, therefore, would have an advantage to having both strong muscles as well as low body fat.
Using Aerodynamics to Your Advantage
Something else that you may notice is that some people who swim wear drag suits. The idea behind this is to increase resistance, therefore making the exercise more difficult. When a person competes, they wear normal swimming gear (making the exercise easier). There are advantages to this technique, but because most of us are recreational exercise swimmers and not in competition, this may be a moot point.
Along the same lines, you will see Olympians who not only use the drag suits, but also shave all body hair in the hope that they can shave :01 seconds off their personal best. NIFS personal trainer Kris Simpson suggests, "If you just want to swim, and do not care how fast, the extra resistance [of body hair] will get you a better workout and calorie burn."
Treading Water for Fitness
As a total beginner, I find swimming can be quite challenging. Inefficient movements and lack of knowledge make long-distance routines almost too hard to bear and definitely less enjoyable. What I have found to be a great exercise, without using a lot of space or thought, is treading water. Basically, find a deep enough place in the pool where you can stay stationary in the water (no touching bottom or the sides) for a time. Then tread water for time, starting off with a minute and working upward. Add drag for more calorie-burning fun.
Get Started in the Pool
Whether you are swimming toward an Olympic dream or just trying to keep your head above water, swimming is undeniably a great exercise that cannot be overlooked. For NIFS members who are eligible, stop by the NIFS service desk to get your Natatorium pass. Also, see Kris Simpson about HIT classes or Aqua Fitness over to the "Nat".
As always muscleheads, rejoice and evolve!
This blog was written by Thomas Livengood, Health Fitness Instructor at NIFS. To find out more about the NIFS bloggers click here.