"I am going to eat a salad because I'm on a diet."

"I am going to eat a salad to clean my pipes."

"I am going to eat a salad because that's the only way I know how to eat my veggies."

"I am going to eat a salad because I hear that's how I can be healthy."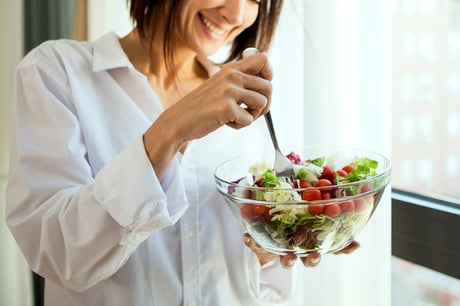 Come on. We've all heard this before—from friends, from coworkers, and possibly from our own mouths. I swear, salads are easily the most famous "diet food." Why is that? Do we really have to eat salads to lose weight, clean out our "pipes," or be healthy? In this blog I break down each of these claims and then talk about ways to improve your veggie game!
"I am going to eat a salad because I'm on a diet."
This is usually said when someone is trying to lose weight or be "super healthy." First, to lose weight, it is widely understood that we must burn more calories than we eat. Thus, we try to minimize our calories to lose the weight. Second, people think that if they eliminate all "processed foods," they will automatically become healthy. The idea behind salads is that they're "healthy," "low-calorie," and blah blah blah.
Guess what? Salads can quickly turn into a high-calorie snack or meal and become full of unhealthy saturated fats and sodium. For example, let's look at the Southwest Avocado Chicken Salad from Wendy's. Sounds healthy, right? They even market this salad as healthy. A full salad has 530 calories with 34 grams of fat, only 15 grams of carbs, 43 grams of protein, and 1060mg of sodium. First off, that's not a big salad for all those calories—which will make maintaining a caloric deficit (for weight loss) difficult. Finding foods that can be eaten in large volumes for lower calories tends to help satiety during weight loss attempts. Also, 34 grams of fat is a lot for one meal. The RDA for a full day is 44–77 grams for someone eating 2,000 calories. Now look at the sodium: 1060 mg of sodium is close to half of the RDA for sodium. Yikes. Hey, at least the salad has protein. They got that part right.
In addition, health is not just about physical well-being. Salads, if built correctly, can most certainly offer physical benefits. But health includes mental and social well-being too. Think for a moment. Does the salad taste good? Am I satisfied? Can I keep this up forever? Am I happy with this? If the answer is "no," consider a different approach. Any change you make should be one that is sustainable for life. In the midst of making these changes, you must evaluate your physical, mental, and social health at all times. How can you improve one part of well-being without sacrificing another? Finding that balance is the key to SUSTAINABLE, healthful lifestyle changes, which ultimately leads to lifelong results.
"I am going to eat a salad to clean my pipes."
Fiber does wonderful things. There are two types of fiber: soluble and insoluble. Soluble fiber is found in oats, beans, peas, berries, apples, plums, and sweet potatoes—all of which can be found in salads. This type of fiber helps absorb water, which adds bulk to stools. There is also insoluble fiber, which helps to get things moving in the GI system, thus helping to relieve constipation. Insoluble fiber is typically found in whole grains, the skins of fruit, skins of beans, seeds, spinach, carrots, cucumbers, lettuce, celery, zucchini, and tomatoes. These foods are even more common in salads, which gives you a hint as to why having a bowel movement after eating salad is not uncommon.
Fruits and vegetables, particularly lettuce, have high water content. It's no secret that water assists in the digestion process. In this case, fiber works best when it absorbs water. This makes your stool soft and bulky.
"I am going to eat a salad because that's the only way I know how to eat my veggies."
This is valid. Vegetables can be super boring. Finding new ways to enjoy veggies can be a challenge. However, there are ways to eat veggies without having to eat a salad. Raw veggies with dip, grilled, steamed, and roasted are all ways to have veggies. Do not skimp on the spices and seasonings, such as garlic powder, onion powder, cumin, Italian seasoning, and ginger. I promise that makes the veggies taste 100,000 times better.
"I am going to eat a salad because I hear that's how I can be healthy."
Read above. I think you got the point.
Bottom line: You do not need a salad to be healthy, lose weight, or clean your pipes. If you like salads, eat them! But be careful of the added fats that tend to sneak into salads. If you do not like salads, find another way to eat your vegetables. Roasted, steamed, raw, and grilled are all yummy ways to eat veggies. Check out my recipe page for more ways to cook veggies. Remember, it's important to like and enjoy the foods you eat.
This blog was written by Sabrina Goshen, Registered Dietitian. To learn more about the NIFS bloggers, click here.