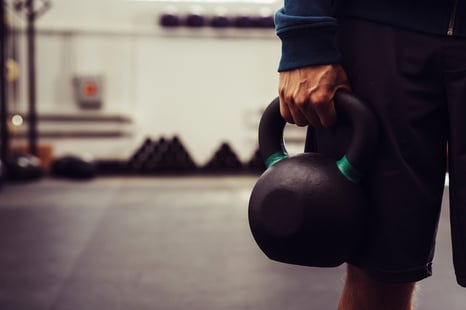 How long have you been stuck on your max for bench press or unable to become efficient at
pull-ups or even able to do a good pull-up? More often than not, people have many areas of concern; upper-body strength, stamina, and technique come to mind. Outside these main aspects of lifting weights, what else is there that you can focus on to help improve your personal bests without making it too complicated? One area you can focus on that gets relatively little attention is grip strength. You already use it a lot, right? The answer might surprise you when you take a look at how it can improve your overall fitness experience.
For the most part, most upper-body lifts require some grip strength. The exercises that require the most tend to be the ones for which you have to hold dumbbells, barbells, kettlebells, or chin-up bars. Whereas other exercises on machines can provide safety and ease of use, they sometimes lack the grip strength aspect that is required with the free-weight exercises. In the fitness world, there's a saying that goes, "If you want to get good at push-ups, do push-ups." You can focus some of your exercise time on developing these muscles.
Exercises That Increase the Strength of Your Grip
Here are some easy ideas to implement into your own workouts next time you are at the gym.
Farmer's carry: This exercise can be a little deceptive to the beginner, but as you will find out, there's more than just legs at work. Other than legs, core, shoulders, and back, you will notice that it is imperative that you have some grip strength to be able to complete the exercise, or else you won't get too far. Remember the saying above.
Weightlifting: When you are lifting weights, be sure to grip the bar tightly. Always practice squeezing against the bar when you lift. Conversely, try to incorporate a grip aspect into other exercises as well. Tools to help you work on grip include Fat Grips, the Axle Bar (aka the Fat Bar), and Grippers. Grippers have been around for a long time, with the "Captains of Crush" being known as the toughest around.
Stress ball: The stress ball, which is extremely cheap and easily available, can act as an on-the-go tool. There actually may be more stress balls available in the US than there are people, so if you do not have one, I'm sure someone you know does. Simply put one in your car and while you're stuck in traffic or at a red light, grab that ball and squeeze out 50 reps on each hand. Not only will your grip strength improve, but you may experience actual stress relief.
Let a NIFS Health Fitness Specialist Help Increase Your Strength
As you can see, there are many ways to help your grip strength. The most important thing to remember is that if you want to improve, you will have to use it and use it often. When you think about all the muscles you use for exercise and how they work together, you must understand that you are only as strong as your weakest link. If your grip is the weakest link, every exercise that requires you to hold weights, or yourself, will be subpar. With increased strength, those plateaus will fall.
NIFS has several options in the fitness center to help aid your quest for improved grip strength, including hand grip dynamometer testing (yes, we can test your grip strength). See a health fitness specialist to schedule an appointment to talk about your goals and fitness assessment options. Take control of your workouts, and get a GRIP on your life.
This blog was written by Thomas Livengood, NIFS Health Fitness Instructor and Personal Trainer. To read more about the other NIFS bloggers, click here.