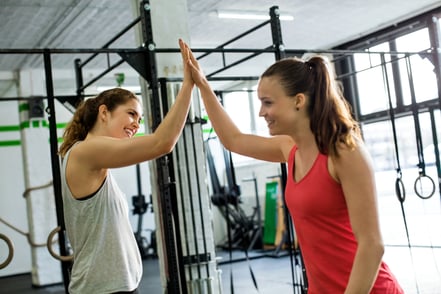 As fitness professionals, we promote good habits to our clients and encourage people to make positive changes in their lives. Sometimes we help others find the spark to exercise or offer the accountability to make those hard-earned results stick. Overall, "helping individuals achieve success in goals and happiness in life" sums up what it means to be a trainer.
The next challenge I pose to you, once you have achieved your goals and are happy, is to find someone else who needs encouragement and help them make better choices. This could be a friend, coworker, or loved one. How can you help ensure that the people you care about are here for the long haul? There are many answers to this question, and sometimes it might take some time for things to work out, but there can be no change without that initial spark.
Find a Fitness Mentor
This scenario that I created places you in the middle of two important individuals every person should consider having in their life. The first person would be someone you look up to for advice, also known as your mentor or teacher. When you seek knowledge about anything, specifically fitness in this case, you need a person you can not only trust, but also someone who cares about your well-being. Whether you are an elite athlete, brand new to fitness, an experienced trainer, or a right out-of-college intern, you need someone to look up to. Even the greatest minds in the world have mentors (for example, Socrates taught Plato, who taught Aristotle, who taught Alexander the Great!). I look up to many trainers who give me inspiration and knowledge (some of whom are part of our NIFS family: Tony Maloney and Rick Huse).
Now Be a Mentor
Now that you have established a mentor and are getting your fitness and nutrition under control, you can now follow through with the second important person, who I alluded to earlier. This second person is the person you used to be, before you started seeing results. They are just beginning the long journey toward fitness prosperity. Now, you can't be expected to do all the work yourself, but you do have the ability to be encouraging and informative. You can be there for someone. Tell them where they can find the resources, become a workout partner, collaborate on a home cooked dinner, anything you can do that allows for that person to know that you care and that there is hope. They will have to make decisions toward health and wellness, and hopefully they will make the best choice for their overall well-being.
Look to NIFS
Being a part of this chain is pretty awesome! Being able to help someone change their life can also change yours. You could be a difference maker, too! In the meantime, NIFS trainers are here to help you with your workouts and fitness testing. Scheduling an appointment to meet with a trainer is as easy as making a phone call (317-274-3432), sending an email (tlivengood@nifs.org), or stopping by the NIFS track desk and meeting in person. We would love to help you become the best version of you possible. In doing so, we pass our knowledge to you, which we have learned from our mentors and teachers. Hopefully, with time, you will be able to do the same.
Muscle heads rejoice and evolve!
This blog was written by Thomas Livengood, NIFS Health Fitness Instructor and Personal Trainer. To read more about the other NIFS bloggers, click here.