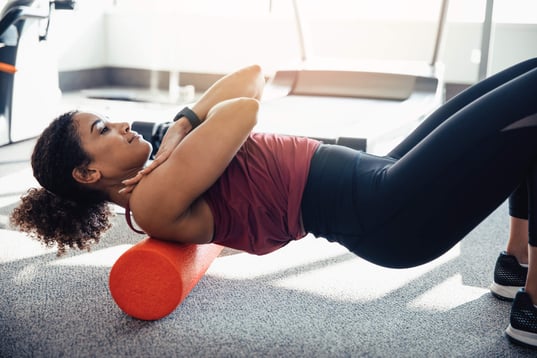 In an athlete's world, every fraction of a second and inch of athletic performance are significant for them to play at their best on and off the field. However, being an athlete means consistently searching for innovative ways to elevate your game. This is where fascia training enters the conversation as one of the many ways of improving one's athletic performance. Fascia training is an emerging topic that holds the promise of unlocking your untapped potential and improving your performance.
In this blog, you willet an introduction to the world of fascia, understand its role within your body, and see how and why fascia training can be what you need to enhance your athletic performance.
What Is Fascia?
Fascia is a connective tissue network that wraps around muscles, bones, and organs, providing structural support, and facilitating movement and proprioception (awareness of the position or movement of a specific part of your body within space). This intricate web of tissue plays a pivotal role in transmitting force and energy throughout the body. For athletes, optimal fascial health can lead to improved agility, explosiveness, and overall performance.
How Are Fascia and Athletic Performance Connected?
Fascia, having elastic properties, stores and releases elastic energy within the body during any movement. Within athletes, well-conditioned fascia can contribute to enhancing power output and efficiency like a coiled spring that can unleash explosive bursts of stored energy, enabling it to reach greater heights. This can make an athlete extremely efficient and powerful in their respective disciplines.
What Are Some Benefits of Fascia Training?
Improved Elasticity: Fascia training includes techniques that target myofascial release and dynamic stretching, resulting in fascia elasticity maintenance. This specific elasticity translates into more efficient movements, reduced risk of injury, and improved range of motion.
Enhanced Proprioception: Because proprioception is one of the properties of fascia, a well-conditioned fascial system will result in enhancements in proprioception. This improvement in proprioception will translate well into better balance, coordination, and agility. For example, gymnasts must have well-conditioned fascial systems for improved proprioception because they're efficiently twisting, flipping, and turning in all directions during competition.
Injury Prevention: Engaging in fascia-focused exercises can help prevent injuries by maintaining the suppleness and resilience of the fascial network. In turn, this supports joint health and reduces the likelihood of strains and sprains.
How Can I Incorporate Fascia Training into My Daily Routine?
Dynamic Stretching: Incorporate dynamic stretching such as (but not limited to) high kicks, leg swings, walking lunges, and trunk twists. You will be stimulating the fascial system and promoting its elasticity.
Myofascial Release: By utilizing foam rollers, massage balls, or any tool to apply pressure to specific areas, you're releasing tension and improving your blood flow within the fascial network, thus resulting in the system working more efficiently.
Plyometric Training: Plyometrics typically involves explosive movements that stress and "train" the fascial system within the athlete's respective discipline(s). Exercises include box jumps, lateral bounds, high skips, and more, all of which have the goal of activating and improving the responsiveness of the fascial system.
Conclusion
Fascia training presents a groundbreaking avenue for athletes to tap into their full potential. By understanding the role of fascia in the body and implementing targeted training techniques, athletes can enhance their performance, reduce the risk of injuries, and elevate their overall athletic prowess. As the science behind fascia continues to evolve, athletes have an exciting opportunity to incorporate this innovative approach into their training arsenal, taking their achievements to new heights on the field, court, track, or wherever their specific discipline/passion lies.
This blog was written by Deveon Martin, NIFS Health Fitness Specialist. To read more about the NIFS bloggers, click here.