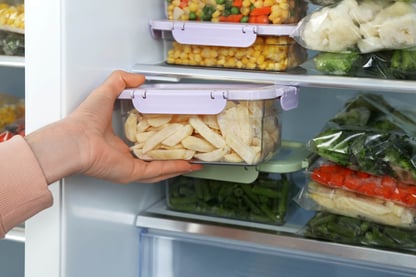 When I say "meal prep," do you picture hours upon hours in the kitchen, a stockpile of containers, and food that you are sick of by week's end? PAUSE right there! I am here to tell you that meal prep does not have to be that way. It does not have to be too time-consuming or hard, and you don't have to eat the exact same meal over and over.
What Is Meal Prep?
For those new to meal prep, it is essentially precooking and preparing foods in advance so that you have less to do during your week, but still have your meals ready to go. The weeks get busy and tiring, especially when work picks up or the kids' extracurriculars start. The last thing anyone wants to do after work is cook. So, if food is not prepped or the fridge is empty, we find ourselves ordering takeout for the third day in a row. Who can relate? My hand is up! Regardless of our busy lives, we still need to find a way to maintain a healthy nutrition regimen because doing so carries over into the rest of our lives. Meal prep is the key to helping you stay nourished even when life gets busy.
Meal prep is not rocket science, but it does require effort and is not the easiest thing in the world. After years of prepping for myself, husband, and even my family when I was younger, along with guiding my clients and patients, I can say there are ways to make meal prep simple and easy while still making enjoyable meals.
Meal Prep Cooking Tips
Here are my tips for you!
Make a Plan
It's always a good idea to start with a plan. Benjamin Franklin said it best, "Failing to plan is planning to fail." Take a few moments to plan and write out the menu for the week.
Consider the number of servings per meal you need, the budget, and food preferences.

How many meals and snacks will you be serving?

Look at your schedule to consider the obligations you have. It would be a waste to prepare food for an evening that you will not be home.

What are your health goals? Are there specific suggestions by your primary care provider or Registered Dietitian that you need to consider when planning your meals?
Think "Single Ingredients"
Prepare single ingredients, such as vegetables, proteins, and starches that can be used in a variety of ways. This can keep you from getting bored with the same meal over and over. For example, prepare a bulk batch of chicken. That one batch can be used for BBQ sandwiches alongside some steamed veggies, as a main entrée tossed in marinade with a veggie and starch of choice on the side, or thrown into a soup like chicken noodle or chicken chili. The same can be done with a starch, such as brown rice. Prepare the rice and use it for a stir-fry with veggies and protein of choice (tofu, chicken, or turkey are good options); a Tex-Mex bowl with rice, beans, lean protein, veggies, and guacamole; or alongside grilled teriyaki chicken. You get the picture.
Prepare Two Proteins, Four Vegetables, and Two Starches
This is a pretty good rule of thumb because all of these single ingredients can be combined in a multitude of ways to make different meals. Pick two proteins that you can use throughout the week, such as chicken, lean turkey or beef, tofu, beans, cod, or salmon. Cook them based on the meals you've planned. Maybe that means half of the chicken is boiled and shredded for BBQ sandwiches and your lunch salads, while the other half is tossed in marinade to be grilled, or cooked in the air-fryer or oven in the next day or two. Then, pick out four veggies that go with your proteins and that can be easily accessible for snacks, including salad mixes, roasted veggies, and cut raw vegetables. To balance out the meals, prepare two starches in bulk. Consider mashed or roasted potatoes, rice, or whole grains of some sort.
Add in Spices, Seasonings, Sauces, and Marinades
Now that you have prepped single ingredients, be sure to have spices, seasonings, sauces, and marinades on hand to pack the meal with flavor. On the stir-fry night, be sure to portion out your meal serving of rice, turkey, and veggies that you cooked in bulk. Then top with the stir-fry sauce. For the shredded chicken you prepared, be sure to mix a meal's worth with a low-sugar BBQ sauce when the sandwich night rolls around. When you go to eat the veggies, use an Italian seasoning combo on spaghetti night but a garlic and pepper combination on the tofu and rice night.
When picking your sauces and marinades, be sure to watch for high sodium (if you have high blood pressure) and added sugar content. Sometimes those sauces will be packed with added sugars, fats, and sodium. Pick low-fat, lite, sugar-free, and low- or reduced-sodium options when available.
Try One-pan Meals, Air Fryers, Pressure Cookers, or Slow Cookers
The methods listed above are easy and still produce a delicious meal. Some of my favorite one-pan meals include chicken with peppers for fajitas, steak strips and sweet potatoes with broccoli, and garlic tofu with veggies. Toss the prepped raw veggies lightly in oil and place on a baking sheet alongside a protein, and then roast it all together. You can make these vegetarian friendly as well!
The air fryers, pressure cookers (such as Instant Pot), and slow cookers (such as Crock-Pot) are all appliances worth considering. My household loves marinating chicken and tossing it in the air fryer, along with sweet potato fries. While that is cooking, we throw a steamable bag of veggies in the microwave. Crispy chicken, fries, and veggies that are so nutritious; very little work; balanced and customized portions to meet our nutrition goals—easy peezy.
The Instant Pot and Crock-Pot come in handy when you want to throw things into an appliance and let it do all the work for you. We use the Crock-Pot for shredded chicken, chili, soups, slow-cooker lasagna, and so much more. Also, did you know there are Facebook groups, such as an Instant Pot Recipe group, that consist of people sharing recipes utilizing these appliances? That is where my sister found the protein bagel recipe that I adapted.
Consider Pre-prepared, Precut Ingredients, and Steamables to Save Time
There is absolutely no shame in needing convenience. Grocery stores these days have raw and chopped vegetables, fruit trays, fresh salsa, premade guacamole, and more in the produce section. In the freezer section, you can find chopped onions, peppers, and celery for some of your recipes as well (because who has time to chop all those veggies…not I). You can also find steamable bags of rice, quinoa, and vegetables if you need a quick side to toss in the microwave or do not want to make these things in advance.
It's Easy—But NIFS Can Help If You Need It!
Meal prep can be simple and not always keep you bound to eating the same meal over and over throughout the week. Once you get past that initial push to do it, the process becomes a habit and part of your weekly routine. Then, once you do it enough, the process will be faster and easier. It is worth the time and effort. I promise. If you still feel that you could use more help with meal prep, reach out to the NIFS Registered Dietitian for one-on-one nutrition counseling or join the NIFS Nutrition and Lifestyle Facebook group.
This blog was written by Sabrina Goshen, Registered Dietitian. To learn more about the NIFS bloggers, click here.