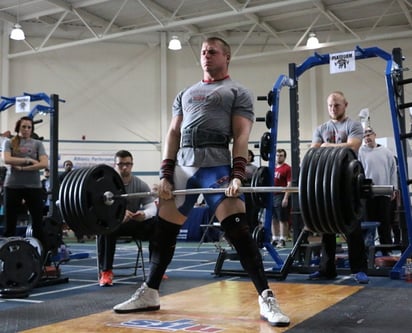 There are numerous different products on the market now that are supposed to help improve your strength training. From lifting belts to Mark Bell's patented Slingshot, there is more gear available now than ever. For a novice lifter, the multitude of available products will probably just leave your head spinning. What is actually helpful and what is just a moneymaker? Here is my take on some of the most popular products out there.
Lifting Belts

There are some products that I will advise most lifters to stay away from, but this is not one of them! A lifting belt is imperative to a good strength training regimen. Any kind of substantial load for a squat or a deadlift is going to put a lot of pressure into your abdominal cavity, as well as onto your spine. A lifting belt acts as a brace when the lifter takes in a large breath and pushes their abdomen out into the belt. This ensures that the spine stays stable in place and has nowhere to go, resulting in a much-reduced risk of injury. This piece of equipment is the first that I would recommend purchasing for any new lifter, especially if you are thinking about competing in powerlifting.

Not sure if you want to compete? Try it out at the annual NIFS Powerlifting Competition! It is a great starter meet to get your feet wet and see what competition is all about.

Olympic Lifting Shoes

You have probably seen or heard of lifting shoes before. They have an elevated heel and make a nice, loud "SMACK" sound on the platforms at NIFS during a properly executed Olympic lift. These shoes can be helpful for more than just Olympic lifting, though. They can be very helpful for front and back squats (depending on your body type). If you have the right body type (usually tall and lanky), these shoes will create better leverage for you to squat more efficiently. The elevated heel actually shifts your center of gravity forward just a slight bit, which allows the squatter to sit backwards and reach "good depth" easier.

These shoes can be somewhat costly for students. Try to find a good deal on a pair of lifters if you are strapped for cash. The more expensive pairs (Nike Romaleos) can run up to $250 or $300, but Adidas makes a similar shoe that you can find for around $75. If you are not an Olympic competitor, there is not much need to spend a couple hundred dollars on these shoes.

Mark Bell's Slingshot

So, we have looked at an "almost necessary" product and a "nice to have, but don't totally need" product. Here is an example of a "don't really need at all" product. Mark Bell's Slingshot is a highly elastic band with two arm sleeves on the side, which, once you put the Slingshot on, causes the elastic band to stretch across your chest. Basically, this tool allows the lifter to handle heavier loads on the bench press than they normally could. The few advantages to this product are

Less shoulder pain for those with very severe shoulder issues


Overloading the bench press with above-maximal weight

Frankly, loading your ego by seeing how much you can bench when using it
If you're thinking I am just hating on Mark Bell or his product without just cause, please reconsider. I am a big fan of Mark and his no-nonsense business style. He knows what his product is for and to whom he should market it. I even have a Slingshot of my own! That being said, I think there are too many young lifters who buy his products just because they see him as an idol and they want to be like him in any way possible. The Slingshot is a tool that can be utilized by experienced lifters, and it can be helpful. But, for the beginner lifter, this product will almost certainly do you more harm than good.

Start with the Basics

There is a time and place for most lifting products, but most of them are not needed until you are way down the road to being competitive. Start with the basic products that will benefit you, not confuse you. A lifting belt is a great product to start with, and possibly a pair of lifting shoes. Do your research about all lifting products and try to determine which ones will work the best for you. I urge you to not just buy any of these products on a whim, thinking that they have to help you because somebody famous said so.
This blog was written by Aaron Combs, NSCA CSCS. To find out more about the NIFS bloggers, click here.