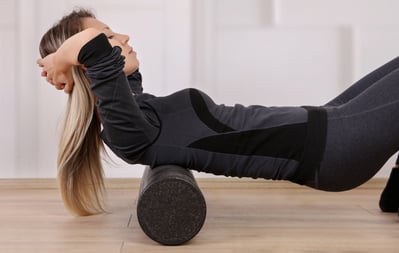 A common nuisance to almost all fitness enthusiasts is the overall lethargic feeling you get from being extremely sore due to a challenging workout. Sometimes this is a deterrent to those looking to develop a consistent workout pattern, and can be especially bothersome if you haven't experienced this phenomenon before.
Does being sore mean that you should take more time off from fitness to recover, or would your time be better used if you could minimize soreness through workout planning and management? Beneath all of the reasons to either work out or stay home is your desire to see results. So this blog looks at ways in which you can shorten your down time due to soreness and eventually soar to new heights with your workout programming.
Pre-Workout Rituals to Minimize Soreness
We all have been sore from working out at some point. Being able to get back to the gym and work out again is key to not only keeping on track for goals, but also to set important habits. Excuses for not being at the gym can vary and many may be valid, but being sore from a previous workout is becoming less and less common because of our pre-workout rituals, which now include, but are not limited to, the following:
FMS corrective exercises (prescribed by a NIFS Health Fitness Specialist)
Foam rolling
Dynamic warmups (think about track stretches)
Even the whirlpool and sauna
With proper usage, these tools are designed to make you not only better at all aspects of fitness, but also safer as you grow into your workout. At NIFS, one of our focuses is on being an all-around fitness center, which includes these aspects. Getting screened with the Functional Movement Screen and talking to a NIFS staff member about your goals is one step toward a better overall experience at the gym.
Planning Your Workout Program for Injury Prevention
Another area to consider is your workout program. Would your weekly times and days allow for a six-day workout split (for example, Monday is chest day, Tuesday is legs, etc.), or would another path that includes total-body workouts make more sense? The answer depends on several things, including your personal goals, your workout experience, previous injuries, and workout frequency allotted. What you want to steer away from is overtraining a specific muscle to the point where it potentially can become injured. This would be more likely if you were to max out on squats six days per week for the next month.
How to plan this program isn't a road you have to travel alone because NIFS offers workout plans (included with membership) to those looking to take their fitness to the next level. Set up a time to meet with a staff member to get started right away.
Take Advantage of Information and Resources from NIFS
In today's world of technology, information is now readily available at your fingertips. You might do an internet search for a TRX exercise and find tens of thousands of websites and videos. NIFS has you covered here, too, as a resource to help you become more engaged in fitness. Posting weekly, the NIFS social media team has not only videos, but also great blogs regarding how to effectively work out, but also how to recover from a tough exercise. If meeting a trainer is a little intimidating, social media such as Instagram and Facebook can be a great way to not only learn, but also get to know NIFS staff who are here to help you.
Now that you have some ideas to help you on your fitness path, there's only one thing left to do: get back to the gym. Meet with a NIFS staff member to set up your complimentary assessments (BOD POD, Fit3D, and FMS). Set up a workout plan that is based on YOUR goals, that makes sense for the amount of time you have to work out, and is centered on your starting point. Expect accountability, encouragement, and growth. Come to NIFS and SOAR!
This blog was written by Thomas Livengood, NIFS Health Fitness Instructor and Personal Trainer. To read more about the other NIFS bloggers, click here.